Virtual Visits: an #HFGather with Claribel Ortega 3/31
We hope you'll join us for another #HFGather on Wednesday, March 31 at 7pm Eastern! Our online program manager, Alex Villasante, will be talking with with Claribel Ortega, author of GHOST SQUAD and the upcoming middle grade novel, WITCHLINGS, about virtual author visits. You can register here. (As always, we will record the #HFGather, so if you can't attend live, register and you can watch it when you have time.)
Claribel will be talking about virtual visits and how connecting with readers has changed in these challenging times–and how it hasn't. She will share tips on what makes an engaging virtual visit, and what authors and illustrators can do to make the process satisfying for readers and creators alike.
---
Claribel A. Ortega is a former reporter who writes middle-grade and young adult fantasy inspired by her Dominican heritage. When she's not busy turning her obsession with eighties pop culture, magic, and video games into books, she's co-hosting her podcasts Celebrity Book Club and Write or Die and helping authors navigate publishing with her consulting business GIFGRRL. Claribel has been featured on Buzzfeed, Bustle, Good Morning America and Deadline.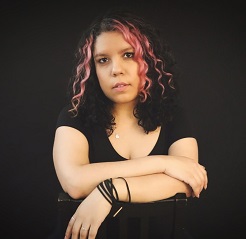 Claribel's debut middle grade novel GHOST SQUAD is out now from Scholastic and is being made into a feature film. Her forthcoming books include Witchlings (Scholastic) and the graphic novel Frizzy (First Second.) You can find her on Twitter, Instagram and Tiktok @Claribel_Ortega and on her website at claribelortega.com.
Posted on: March 25, 2021
Tags: #HFGather, author visits, ortega