Upcoming #HFGather: Steve Light Pen & Ink Drawing Demo, 3/27/21
For our next #HFGather, we will be livestreaming a drawing demo from the Barn featuring author/illustrator Steve Light. Steve will be onsite for our first Personal Retreat Weekend and the demo will be on Saturday, March 27 at 10am. You can register for the Gather here. (As always, we will record the #HFGather, so if you can't attend LIVE, register and you can watch it when you have time.)
Steve will be doing a finished illustration in the style of his newest book Road Trip A Whiskers Hollow Adventure, which was inspired by time that he spent at our Retreat Center. He will start by doing a pencil sketch on tracing paper, then use a light box to ink the illustration. He will be inking with fountain pen and talking about why it is his tool of choice. Then the ink drawing will be watercolored. Steve will discuss the paper, paints and brushes he uses and why. Steve only works traditionally on paper. No digital work is done, so viewers will be able to ask questions about traditional illustration techniques and children's book publishing as well as Steve's books and writing process.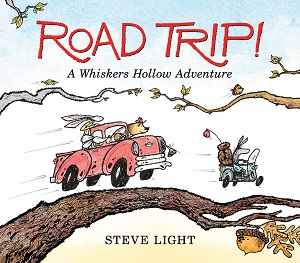 Some of Steve's original art from Road Trip A Whiskers Hollow Adventure will be on display in the Steve Light cabin at our Retreat Center. Steve and his wife, Christine Cincotta, have established a scholarship to provide $300 towards tuition to attend our Summer Camp in Illustration. Find out more about the scholarship here.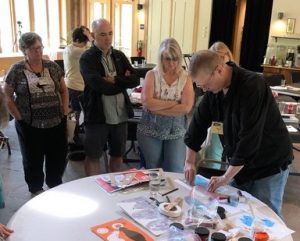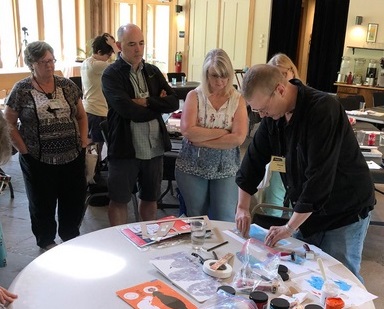 Steve grew up in New Jersey and studied illustration at Pratt Institute. After graduating he did corporate illustrations for companies such as: AT&T, Sony Films, and the New York Times Book Review. Steve then went on to design buttons that were acquired by the Cooper-Hewitt Design Museum. He has since published several children's books with various publishers, including Builders & Breakers; Have you Seen My Lunch Box and Black Bird Yellow Sun.
Posted on: March 16, 2021
Tags: #HFGather, faculty spotlight, illustration tips, Light