Chris Tebbetts: Mining Our Personal Fascinations for Story Material

We'd like to thank Chris Tebbetts for this guest blog post! Chris is faculty, along with Erin Dionne, for Getting Your Middle Grade or Young Adult Novel Unstuck. Thanks, Chris!
One of the exercises we do at our Getting Your Middle Grade or Young Adult Unstuck workshop is all about encouraging writers to hone in on the kinds of things that stick to them the most, creatively speaking. I'm talking about favorite stories, persistent memories, influences on their creative lives, etc., all with an eye on identifying prospective core material from which we might draw for a current or future writing project. Feel free to play along as you read through the rest of this blog entry.
First, make a story list.
First, I ask my writers to take a minute or less to make a list of five favorite movies, or, for the cinematically disinclined, favorite books, books from childhood, t.v. shows, plays, video games…anything with a story. It's not meant to be a definitive list, but a quickly-generated one that captures whatever items most quickly come to mind in that particular moment.
Look for repeating themes.
From there, I ask participants to look at their lists and see if they can discern any repeating motifs, ideas, or themes. It doesn't have to be something that's true for every title on the list; just any kind of repetition. For example, maybe your list includes several stories with strong female protagonists; or a lot of mysteries; or stories about loners; or about friendship; or…or…or….whatever it might be.
Distill those themes into possible material.
The exercise goes on from there, but the basic idea is about taking those repeating motifs and distilling them into possible material, either for a new story or a work in progress. My guess is that these elements, as we identify them, will bring a natural level of creative energy to the process. There are no guarantees, of course, but when I'm up against the difficult odds of completing a novel, I'll take any leg up I can get.
All of this is easily adaptable to any other category, as long as it's a list of things that describe you in some way. You might mine similarly valuable information from a list of your favorite childhood memories; turning points in your life; people whose memory haunts you; your best or worst days ever; things you covet; things you're good (or bad) at…. and on, and on.
Same idea, different twist.
In the spirit of all that, here's another twist on the idea—a list of questions you might use in a similar way. I've included my own answers as well, which skew toward middle grade fiction, since that's what I'm working on these days, but feel free to adapt any of this for your own purposes.
However you use it, the question remains the same: what repetitions do you see in your answers? What themes? What possible core material might be embedded here, just waiting to be noticed?
Happy writing!
1) The first novel I can remember having an emotional impact on me. (Harriet the Spy, by Louise Fitzhugh)
2) The first (or any) novel I can remember reading in one sitting. (The Big Joke Game, by Scott Corbett)
3) The first author to earn my loyalty as a reader and keep me coming back for more. (A tie: Beverly Cleary and Roald Dahl.)
4) The first character I remember wanting to be. (Charlie Bucket, in Roald Dahl's Charlie and the Chocolate Factory.)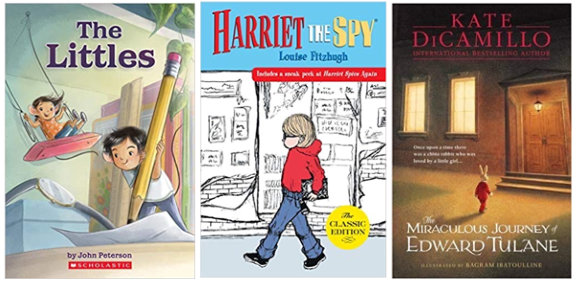 5) The first book I can remember reading over and over. (Tales of a Fourth Grade Nothing, by Judy Blume)
6) The first fan fiction I ever wrote. (A story featuring my own adventures for Homer Price.)
7) The first book I can remember buying with my own money. (The Littles, by John Peterson)
8) A novel that made me cry. (The Miraculous Journey of Edward Tulane, by Kate DiCamillo)
9) A novel that made me laugh out loud. (Cosmic, by Cottrell Boyce)
10) My favorite middle grade reads of the last year. (The Bridge Home, by Padma Venkatraman; Where the Heart Is, by Jo Knowles; A Time Traveler's Theory of Relativity, by Nicole Valentine; The War that Saved My Life, by Kimberly Brubaker Bradley)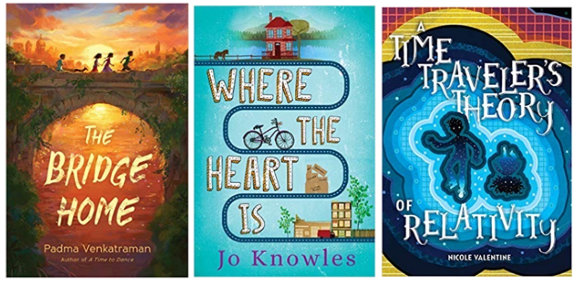 ---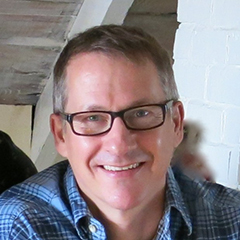 Chris Tebbetts is the author and co-author of many books for young readers. Titles include the young adult novels ME, MYSELF, AND HIM and M OR F?; the #1 New York Times bestselling Middle School series, as well as Public School Superhero, with James Patterson and illustrator Laura Park; the New York Times bestselling Stranded series with Jeff Probst; and The Viking series. His work has received children's choice awards in Oregon and Hawaii, as well a Sunshine State Young Readers Award nomination, and a nod on the New York Public Library's annual list of Books For the Teen Age. He is a native of Yellow Springs, Ohio, and currently lives in Hinesburg, Vermont.
---
Online On Demand Workshop Now Available!
Getting Your Middle Grade or Young Adult Novel Unstuck
An On Demand Online Workshop
With Chris Tebbetts and Erin Dionne
You can complete this workshop at your own pace! The faculty has prepared an engaging experience for you with a variety of pre-recorded lectures and hands-on workshops as well as a collection of additional resources. You will have access to the course for six months after your registration date.
Two seasoned authors of middle grade and young adult fiction, Erin Dionne and New York Times best-selling author Chris Tebbetts, will share their writers' toolbox for getting unstuck, with a focus on character development, plotting and outlining, revision, journaling, and improvisation/play.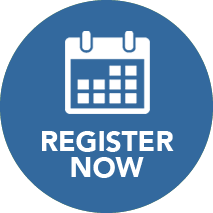 ---
Posted on: February 28, 2020
Tags: faculty guest post, novels, tebbetts, writing tips