Tips for Expanding Your Career with School Visits
At our Crafting Successful Author & Illustrator Visits workshop, you can learn strategies to create and deliver powerful talks to your readers. In case you can't make the workshop, we've gathered some tips to help you make the most of your next presentation.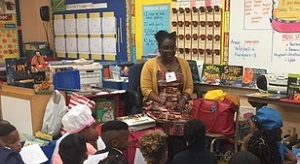 3 tips for awesome author visits
Before attending this workshop, I'd already done some author events at bookstores and schools with my picture books Bunnybear and Take a Picture of Me, James Van Der Zee! I'd taken some great workshops on school visits. I'd also been a teacher, a story time reader, and a standup comedian. I'd had practice being entertaining, engaging, and occasionally inspiring, but it was during this workshop that I finally learned how to deliver a moving, authentic, and effective author visit to audiences of all ages. Here are three powerful tips I learned in the workshop.
[Read more]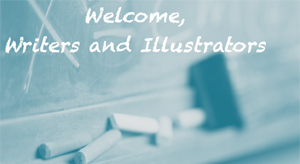 On the scene: an actual school visit
By the time our authors and illustrators reach Day 4 of this workshop, they are well prepared to step in front of classes full of children, which is timely because on Day 4 of the workshop, they give presentations at local schools.
Day 4 might look something like this:
6:00 a.m.–The alarm doesn't need to wake you. You're up! Did you even sleep?
7:15 a.m.–You check your supplies and think about Carmen Oliver's advice the day before: "Bring more than you think you need, because you never know what the kids will really need." [Read more]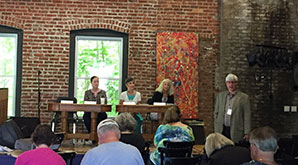 Listen to your audience
The key to a successful presentation: listen to your audience! When I first took this course, led by emeritus faculty Peter Jacobi, I was, like most who sign up for this workshop, understandably nervous. Questions flooded my mind:
"How will I measure up?" "Can I do this?" And the most pressing one for me–"Is he going to change me into a phony puppet?"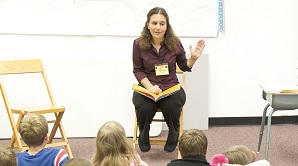 5 rules to minimize the dangers of public appearances
Be prepared.
Even if you are given short notice – or no notice at all – you should have the facts and other information you need at your fingertips.
Have conviction.
Express your opinions and explain your cause with enthusiasm. If you aren't excited about it, why should anyone else be?
The faculty of Crafting Successful Author & Illustrator Visits recently came together to talk about the workshop and what attendees can expect:
Posted on: April 1, 2019