Sustainability
Responsible Stewardship
The Barn at Boyds Mills is situated on a 1,300-acre farmstead in Boyds Mills PA, on the traditional and contemporary lands of the Lenape people.  It was the home of Caroline and Garry Myers, the founders of Highlights Magazine. On this site, the Highlights Foundation welcomes approximately 1,000 writers and illustrators from around the world each year for workshops and retreats, with their mission at the forefront: to support storytellers who inform, educate, and inspire children to become their best selves. 
The property is now stewarded by 105 descendants of the Myers family. They meet each year in Boyds Mills to reaffirm their commitment to children and to this land. As a family, they created an Energy Mission and Vision in 2019 to demonstrate their leadership and commitment to creating a net positive impact.  
Since then, they have installed a 30kW solar array on one of the building's rooftops, added spray foam insulation in the floors of cabins, installed mini-split heat and air conditioning units in 23 cabins, and are working to integrate energy management software to oversee a more efficient use of power on the campus. 
With the help of grantors, volunteers, donors, and partners, we also installed a 105kW solar array at the heart of the property.  This enabled the facility's shift to primary solar energy. The array was completed in early 2022 and powered on in the Spring of 2022.  Read about the array and the celebration here.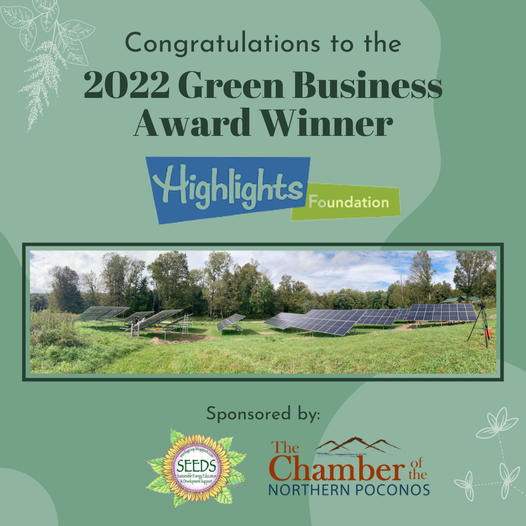 The Highlights Foundation was named a 2022 Green Business of the Year in Northeastern Pennsylvania.  Read the press release.

Please help support our commitment to sustainable energy: