Honesdale, PA – On June 21, 2022, the Summer Solstice, more than 30 people gathered at The Barn at Boyds Mills to celebrate the Highlights Foundation's shift to primary solar energy.   
Distinguished guests included representatives from the Foundation, Wayne County Commissioner Jocelyn Cramer, Sustainable Energy Education and Development Support (SEEDs) representative Kathy Dodge,  and several of the volunteers who have installed solar panels on the property over the last few years. 
"When we set out back in 2019 to make the Barn at Boyds Mills a net positive facility, we barely knew where to start," said George Brown, Executive Director for the Highlights Foundation.  "But through a partnership with SEEDs, and with the help of volunteers and grants from PEDA, the Overlook Estate Foundation, and the Wayne County Community Foundation, we've made amazing progress.  Their expertise and support have been invaluable." 
The Barn at Boyds Mills is situated on a 1,300-acre farmstead in Boyds Mills PA, on the traditional and contemporary lands of the Lenape people.  It was the home of Caroline and Garry Myers, the founders of Highlights Magazine. On this site, the Highlights Foundation welcomes approximately 1,000 writers and illustrators from around the world each year for workshops and retreats, with their mission at the forefront: to support storytellers who inform, educate, and inspire children to become their best selves. 
The property is now stewarded by 105 descendants of the Myers family. They meet each year in Boyds Mills to reaffirm their commitment to children and to this land. As a family, they created an Energy Mission and Vision in 2019 to demonstrate their leadership and commitment to creating a net positive impact.  
Since then, they have installed a 30kW solar array on one of the building's rooftops, installed a 105kW solar array on the property, added spray foam insulation in the floors of cabins, installed mini-split heat and air conditioning units in 23 cabins, and are working to integrate energy management software to oversee a more efficient use of power on the campus. 
The celebration took place in the new 105kW solar array at the heart of the property, because that installation enabled the facility's shift to primary solar energy.  The array was completed earlier this year and powered on this Spring.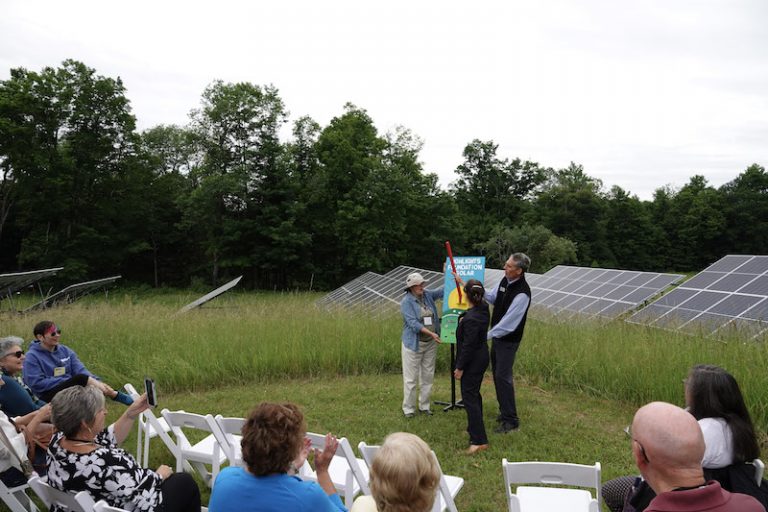 (Photo credit: Anna Brown.  George Brown, Jocelyn Cramer, and Kathy Dodge celebrate the Highlights Foundation's transition to primary solar energy during a ceremony on Tuesday, June 21, 2022.) 
The Highlights Foundation and the Myers family continue to work to a net positive energy facility. 
To support these sustainability efforts, visit https://www.highlightsfoundation.org/donate-now/.  
# # # 
CONTACTS: 
George Brown, Executive Director, Highlights Foundation (George.Brown@highlightsfoundation.org)
For a look at the progression of the solar array construction at the facility, check out this video.