Diving Into Picture Books: Format, Structure, and Practice
January 15 - 22, 2022
OVERVIEW:
Two-Week Online Course
Saturday, January 15, 2022 (3pm – 5pm EST introductions and presentation)
Saturday, January 22, 2022 (12-2pm EST- peer group discussion; 3pm – 5pm EST presentation)
25 participants max
Join us for two intensive sessions (with closed captioning available) to kickstart your picture book project, with an overview of picture book formats and structures, plus strategies for idea implementation, drafting and revising.
FEEDBACK EXPECTED:
Informal: You will create during the course and can share in small groups with informal verbal feedback from peers.
Optional, paid: Written feedback, following the course, on your work-in-progress picture book draft.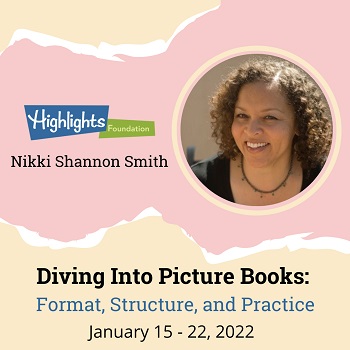 WHY THIS WORKSHOP?
Thinking about writing a picture book, but don't know where to start? Or, already started a picture book and feeling stuck? This workshop will help you put ideas into practice to start your picture book manuscript.
Join Nikki Shannon Smith as she shares the basics of picture book writing from idea, to draft, through revision.
The first session will familiarize picture book beginners with picture book formats, and discuss what to consider as you form your idea and write your first draft. Topics in this session will include beginnings, story structure, character, pacing, and endings.
During the week between sessions, you will have the opportunity to draft or revise your own picture book so you can apply your learning to your work and share/workshop it in the second session.
The second session will focus on analyzing your picture book draft in preparation for revision.
Writing exercises and time for questions and discussion will be included in both sessions. And of course, each session will include at least one picture book read-aloud!
IT'S A GREAT FIT FOR:
Picture book beginners, whether you are brand new to writing or just new to writing Picture Books.
Illustrators who want to learn more about picture book writing. Picture books are a beautiful balance between words and pictures. If you feel confident in your illustrations but want to learn more about the writing and structure of a picture book, please join us.
Those who like the structure of a short course with time to work on your own draft in between sessions. You'll have time to implement some of your learning and offer your work to fellow writers who can give informal feedback and encouragement.
You like the flexibility of online programs with recordings available for 30 days following the course.
DETAILED AGENDA:
Saturday, January 15, 3pm – 5pm Eastern
Part 1: Let's Start at the Very Beginning
Welcome with introductions
Read Aloud
Picture Book Formats and Structures
Q & A: Let's clarify and prepare for today's writing activity.
Mini-lesson and Writing Exercise: Let's Get Started!
+ Next steps
Between Sessions
Draft and/or revise your own picture book, so you can apply your learning to your work.
Your Part 2 experience will be enriched if you have a draft or part of a draft to share.
Saturday, January 22, 12pm – 2pm Eastern & 3pm – 5pm Eastern
Part 2: Peer Group Discussions to workshop your draft picture book, 12pm – 2pm Eastern
Break
Part 3: Picture Book Analysis, 3pm – 5pm Eastern
Welcome and Read Aloud
Analysis and Revision
Mini-Lesson and Writing Exercise: Another Look
Q & A and Farewell
Throughout the Workshop
Peer discussions.
Q & A with faculty and fellow writers.
Handouts, booklists, and exercises.
Post-Course Critique Opportunity:
Written Critique: Following the class, there is the option to add a written critique from Nikki Shannon Smith. You will submit your work-in-progress (draft form), up to 1,000 words, plus a cover letter offering Nikki details on where you are in the process of this project and a little about what brings you to the project. Submissions are due by January 29, 2022. You will receive written feedback on your project within 4-6 weeks of submission. Cost of the optional post-course critique is $100.
COMMITMENT REQUIRED FOR THE BEST EXPERIENCE:
This workshop is best if you attend and engage in all the sessions live. (Note: If your schedule does not allow you to attend all the live sessions and you would still like to register, that's OK! You'll have access to the recordings with closed captioning. They're posted the day after the session, and they'll be available through February 28, 2022.)
Trying to figure out how this course fits into your schedule? Read some ideas about planning for the right level of commitment.
HOW IT IMPACTS KIDS:
Picture books are the first entry point for getting children engaged in story. At this workshop, you will learn how to turn your ideas into action to start the process of bringing your story to young readers.
Why do we mention this? Learn about the Highlights Foundation mission.
Faculty & Special Guests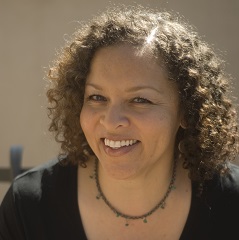 Nikki Shannon Smith is the author of eleven books, ranging from picture books to young adult. Her work includes the…
Learn more