Kay Yoder Scholarship for history writers
The Kay Yoder Endowed Scholarship Fund was established to support those writers with a passion for United States history. The scholarship honors Kay Yoder, a longtime friend of Highlights and the Highlights Foundation.
Kay Yoder led an active and fulfilling life. Born in Lebanon, Pennsylvania, in 1921, she was a witness to history as a survivor of the 1936 Johnstown Flood. She's been a wife, mother of three, home-economics major, and a teacher. She attended Indiana University in Pennsylvania and was a substitute teacher at Princeton High School in New Jersey, where she went on to teach English full time for many years.
Ms. Yoder was also a writer, whose work has been published in Highlights and Cobblestone, and an accomplished artist and poet. She was the author and illustrator of Portraying My Life in Paint and Poetry. Many of her paintings have been seen on exhibition. In addition, she loved to listen to books on tape and especially enjoys nonfiction and historical biographies.
She also loved music and throughout her school years played French horn and trumpet as well as the bugle at summer camp. After seeing her in a high school play, Kay was scouted by Hollywood producer Max Gordon. She even danced with Gene Kelly!
Kay loved to travel, and with her late husband, Wayne, traveled all over the world. One of their last trips, which they took when they were in their eighties, was a journey to Gibraltar and Morocco.
For many years, Kay and Wayne were regulars at Chautauqua during the time the Highlights Writers Conference was held there. Later in life, Ms. Yoder often joined her daughter, Carolyn, editor of Calkins Creek Books, for her retreats at Boyds Mills. In Carolyn's words, her mom's presence was "probably the reason so many people return. They loved to see her!"
And see her they did! Ms. Yoder was keenly interested in workshop participants–who they are and their current projects. On critique nights, she listened carefully, offering encouragement as well as her expertise as an English teacher. Combined with her quick wit and vibrant, upbeat presence, it's no wonder that workshop participants flocked to her, shared with her, and were inspired by "Highlights' own" Kay Yoder!
Get more information about the scholarship process and apply here.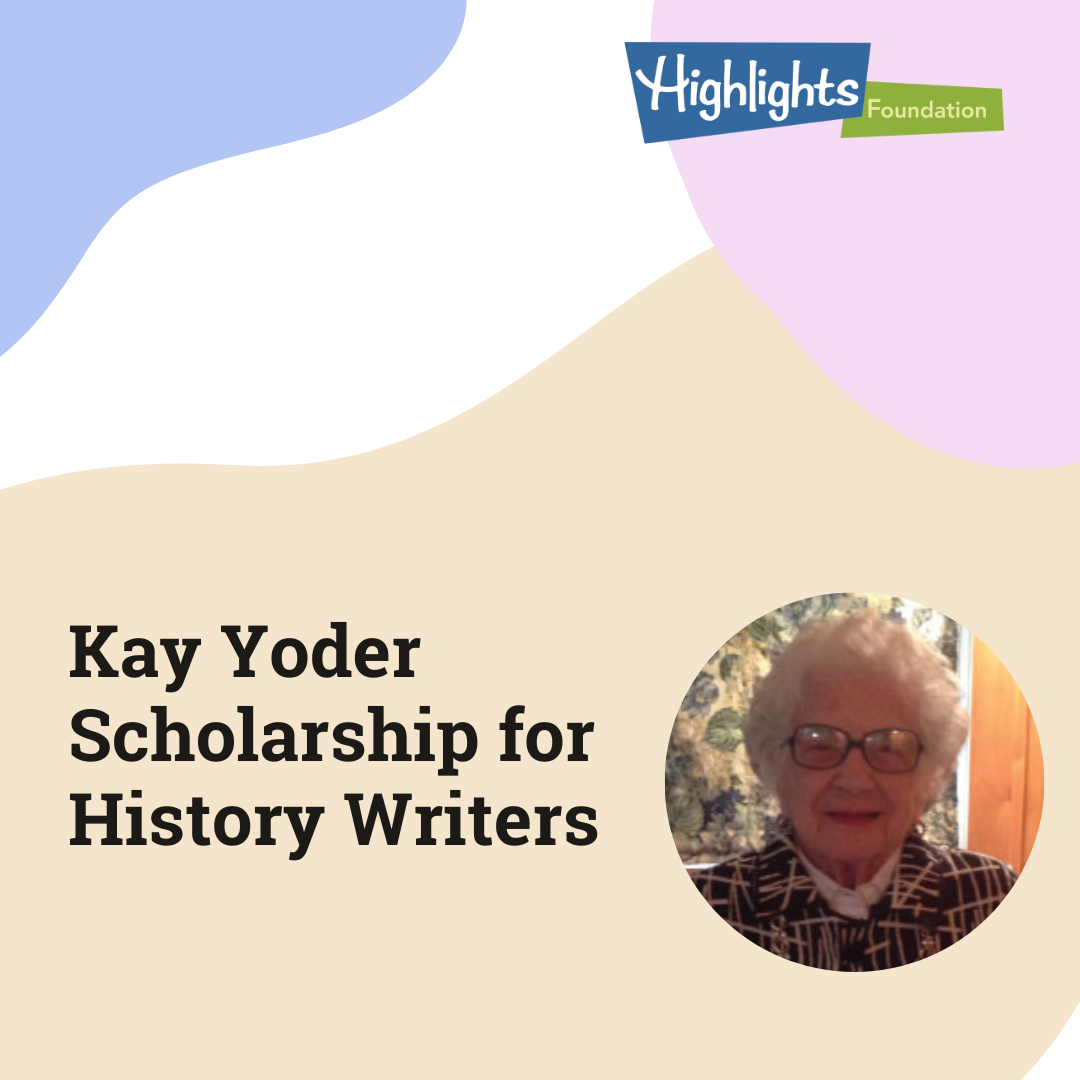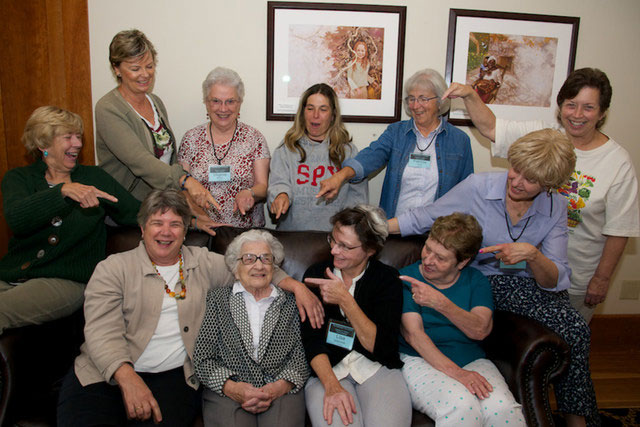 Kay Yoder and workshop participants
Enjoy these photos from the dinner announcing the new Kay Yoder Scholarship for History Writers:
Click on a picture to enlarge it.