Intimate and Inspiring Workshops for Children's Authors & Illustrators at All Levels
"I've been to many conferences and workshops and I teach a workshop every summer but coming to a Highlights workshop has been on my bucket list for years. It even exceeded my high expectations. Hard to put into words but the whole experience was magical. Being in a nurturing bubble, totally immersed in writing was amazing. No newspapers, no TV, no laundry to do or meals to cook, just writing. And learning from amazing mentors. And talking about writing. And writing some more… Bliss."

The Highlights Foundation positively impacts children by amplifying the voices of storytellers who inform, educate, and inspire children to become their best selves. We have been fulfilling our mission for over 35 years.
We welcome you to join us at our picturesque Retreat Center nestled in the beautiful Pocono Mountains for one of more than forty annual workshops offered here.
A Virtual Tour of Our Campus
"The faculty/conferee ratio and the availability of the faculty are two of the best and unique features of these small workshops. It was truly an eyeopener to see things from an editor's angle."
CONNIE WOOLDRIDGE
Richmond, IN
Nonfiction—It's More Than Just the Facts!
"The workshop leaders provided a special balance between honest feedback and sincere encouragement. Masters of their own craft, they take the time to get to know attendees and offer helpful, specific, advice. In a word, inspiring! The accommodations were perfect!"
Robyn Black, Gainesville, GA
Lynn Champagne, Ogden, UT
"Attending the workshop not only gave me deeper insight into writing, but it established new friendships and broadened my feeling of professionalism and capabilities. It was wonderful to get together with other writers who were more than willing to share their expertise and experiences."
LORI MORTENSEN
Cameron Park, CA
Writing from the Heart
"This workshop exceeded my greatest expectations—I am prepared to promote myself and my books to my market, in a knowledgeable and fun way. Now I know the pitfalls that may come my way, and the joys I'll reap, if I promote myself well."
ELISSA ELLIOTT
Rochester, MN
Life in the Spotlight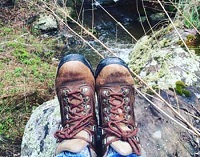 What to Expect from a Highlights Foundation Retreat
Writers share their experiences!
Executive Director George Brown and Program Director Alison Green Myers paid a visit to Matthew Winner's Children's Book Podcast recently, to talk about our programs and our history. Listen here: