Update 10/10/23
Kirkus reviewed Claire's book: "Refreshingly pushing back against tropes that often appear in these types of stories, Claire is not required to be heroic in the face of her declining health or to find meaning in it; she expresses all the frustration of a typical high school student. . . . The visual format is the ideal medium for depicting her emotional state: Simple, expressive character designs and backgrounds in white and shades of purple help soften even intense situations. . . . Informative and full of relatable honesty."—Kirkus Reviews
Update 4/4/23
Today Claire shared the cover reveal for her graphic novel, One in a Million, which releases October 10, 2023 with Candlewick Press: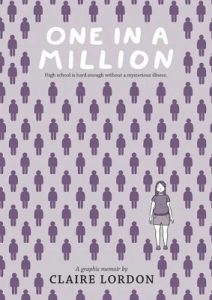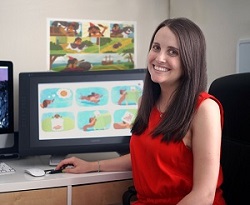 Original Post:
A few years back, author, illustrator, and designer Claire Lordon had an idea that she thought might work as a graphic novel. She brought it to our Your Guide to Graphic Novels workshop in, and the feedback she received helped her start and develop the project. She recently celebrated the sale of the book to Candlewick.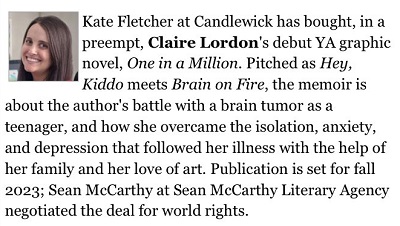 Congratulations, Claire! Thanks for coming by the blog to answer a few questions about your process and your project.
We see from your website that you have a lot going on, illustration-wise. What made you interested in creating a graphic novel?
Claire: I love creating picture books but I also have longer, more complex stories that I'd love to create. Also, young adult books are some of my favorite books to read. Graphic novels combine all of these factors into one package. My memoir story was itching to be created and a graphic novel seemed like the best format.
Was this your first time at one of our workshops? Was it a valuable experience for you?
Claire: This was actually my second time at a Highlights Foundation workshop. My first experience was Picture Book Boot Camp a couple of years prior. Both workshops were very valuable because of the faculty, my fellow students, and the feedback I received. They were such wonderful experiences because I could deep dive into my work and projects and not have to worry about other things that can detract from writing and drawing time.
What were the most useful parts of the Graphic Novel workshop?
Claire: I loved receiving a one-to-one review with the faculty and the guest art director. Also, learning how the process of creating a graphic novel works was very helpful. It was helpful to me to learn that the whole book doesn't need to be sketched out to be submitted. It's a lot of work, and a sample and an outline can sell a book. Another useful thing I learned was the format on how to write a graphic novel.
How did the workshop contribute to your selling your graphic novel?
Claire: Although I wasn't working on my current graphic novel at the time, I was musing it over in my head. It really was the first time I shared with others that I was interested in telling this story. I received feedback that pushed me to start the project. The workshop also gave me a rough idea of what I would need to pitch the graphic novel.
Thanks for your time, Claire. We're sure that your remarkable story will make an exceptional graphic novel!
---
Claire Lordon is an author, illustrator, and designer in Vancouver, Canada. Her debut YA graphic novel, One in a Million, is pitched as Hey, Kiddo meets Brain on Fire. The memoir is about the author's battle with a brain tumor as a teenager, and how she overcame the isolation, anxiety, and depression that followed her illness with the help of her family and her love of art. The publication is set for fall 2023 with Candlewick. Visit Claire's lovely website, and follow her on Twitter, Instagram and Facebook.