Faculty Interview: Carmen Oliver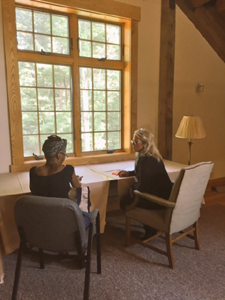 Carmen Oliver is a gifted storyteller, teacher and Highlights Foundation faculty member. She's also the brains behind The Booking Biz, which combines her public relations skill set with her love of children's books. Carmen supports authors and illustrators as they make connections with their readers through special events and school visits. Carmen's clients include Kwame Alexander, Cynthia Leitich Smith, Don Tate, Kathi Appelt, Sarah Aronson, and Salina Yoon, to name a few. The Booking Biz continues to grow because of Carmen's passion, generosity, and in-depth knowledge of children's books.
---
Alison: Welcome, Carmen! We are thrilled to have you on the blog today. You have a hand in producing many children's book events and making connections between your clients and children, but you also spend time presenting at schools as an author. Can you share with us one of your favorite experiences during a recent school visit?
Carmen: Thank you, Alison. I'm thrilled to be back! One of my favorite experiences came from visiting a school arranged by An Open Book Foundation in Washington, D.C. After my presentations were over, a five-year-old girl asked me if I would read her Bears Make the Best Reading Buddies. I had just finished reading the story during my presentation, so this caught me a little off guard at first, but I pulled the book back out. We sat down on the carpet, knee-to-knee, and read the story together. Then she asked me if I could read it again. And so I read it again. I savored that moment. Still do–giving her as much love and attention as I could in a sea of busy kindergartners!
Alison: What a special moment for that child, and for you. School visits can be overwhelming, but you've said before that you look for special moments like this when you visit a school. My guess is that when you look for them, you find them. We know that you will share tips like this at our School Visits: Spotlight on Students and Storytellers workshop. What do you hope authors and illustrators take away from your workshop?
Carmen: Along with looking for those special moments, I want authors and illustrators to understand that working with children is all about authenticity. They must be their authentic selves and tell stories that only they can tell. Every one of them has something important to say. At the workshop, it'll be my job to help them uncover these traits and help them shape their presentations in a way that connects them to their audiences with heart, humor, and confidence.
Alison: Thank you for your time today, Carmen.
Carmen: Thanks, Alison. My pleasure.
Posted on: March 2, 2017