Pride Celebration of Stories: Some Articles and a Free #HFGather
Kids see themselves, their families, and their communities, as part of a larger world through the pages of books. These books encourage self-acceptance, empathy, and compassion and resonate with a variety of family structures and identities. Since June is LBGTQIA+ Pride month, we're sharing some pertinent blogs, podcasts and articles below.
We'd also like to invite you to join us for a free virtual #HFGather!
When: Wednesday, June 15, 8pm EST
Join Jas Hammonds, AM McLemore, NoNieqa Ramos and Em Dickson in this PRIDE Celebration of Stories. Register here.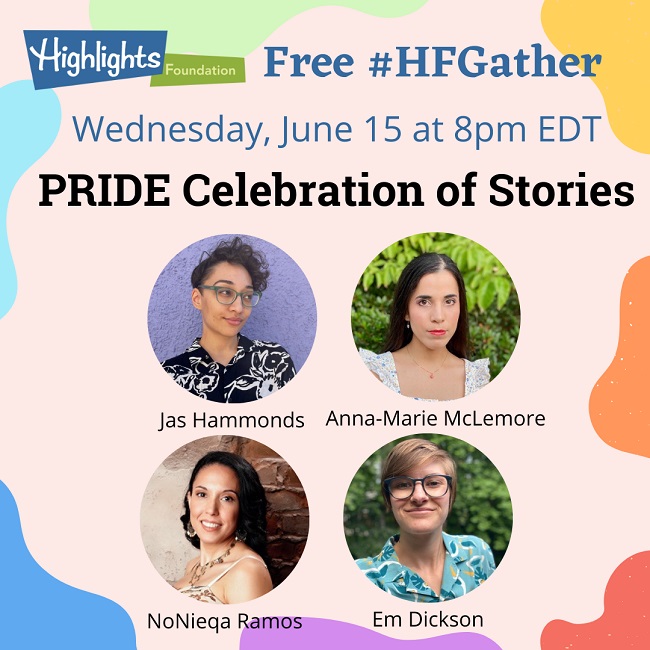 ---
Writing the Rainbow: Rob Sanders and Lesléa Newman Talk About LGBTQIA+ Picture Books
Rob Sanders and Lesléa Newman chat about writing picture books, recognizing important anniversaries and why more LGBTQIA+ voices are needed in children's publishing.
More LGBTQIA+ Picture Books: Why?
Some thoughts about WHY more picture books with LGBTQIA+ themes are needed.
Bringing Allyship to Your Work in Children's Literature
Lesléa Newman shares examples of how she is conscious of family constellations, pronouns, and gender roles in her work and Rob Sanders shares thoughts on bringing authenticity to your work.
Kids Need Queer Books
Books that depict queerness across the wide spectrum of everyday life, are crucial for all kids.
Rediscovering Joy with Picture Books
Author C. Rowen MacCarald shares the joy of discovering the vast possibilities for queer picture books.
Inner Truths, Part 1: Crafting LGBTQ+ Children's Books – Lesléa Newman and Kyle Lukoff on the Reach Out and Read podcast
LGBTQ+ children's books play a crucial role in offering 'mirrors and windows' for all children and their caregivers, yet they remain not only hard to find, but often challenged by society. This podcast explores the craft and creativity behind LGBTQ+ children's literature with Lesléa Newman, author of 75 books including the well-known "Heather Has Two Mommies", and Kyle Lukoff, author of "Call Me Max" and "When Aidan Became A Brother."
Inner Truths, Part 2: The Research Behind LGBTQ+ Children's Books on the Reach Out and read podcast.
Dr. Jamie Campbell Naidoo, a professor at the University of Alabama's School of Library and Information Studies, discusses how to evaluate LGBTQ+ books for kids, common portrayals of 'rainbow families' in children's books, balancing accessibility and privacy issues for books around these topics, and, of course why, year after year, LGBTQ+ children's books continue to be the most challenged genre.
Watch a Lee & Low Books webinar: LGBTQ+ Children's Books: A Conversation with Authors and download their list of books and resources.
How LGBTQIA+ Book Bans Impact Kids and Teens, by Karis Rogerson on the We Need Diverse Books blog
Books helped me figure out, in my mid-20s, that I'm queer. In fact, it was mainly young adult books aimed at teenagers that showed me parts of myself I'd been hiding from for more than two decades. So when I say that I think diverse books are important, and when I spotlight queer titles and stories, it's because they mean a lot to me. I might have realized who I was sooner if I'd read a broader selection of books as a teen. Read more.
---
The Highlights Foundation is committed to fostering a diverse, equitable, and inclusive environment in the world of children's and YA publishing. Join us in this mission as we celebrate PRIDE month together by donating to the
Kidlit Pride Scholarship
which supports writers and illustrators from the LGBTQIA+ community in further developing their craft through workshops with us.
Posted on: June 12, 2022