"Whether through words or art, Indigenous storytellers convey connection and community through their craft. But the entry point for creating works for young people is not so easy to locate. It is critical to increase the number of Indigenous writers and artists sharing their work with young people. With over 574 Native Nations within U.S. borders alone, the Highlights Foundation recognizes that many more stories remain untold." — Traci Sorell, Author and Cherokee Nation citizen
Giving Tuesday is next week. Together with Traci Sorell, the Highlights Foundation is raising funds for our Native Creatives Scholarship. This scholarship helps Indigenous authors, artists, and creators attend programs at the Highlights Foundation as they work to bring their stories to kids. Watch a special message from Traci below.
Learn more about the scholarship: https://www.highlightsfoundation.org/native-creatives-scholarship/
Learn more about the Native Creatives Cabin at the Highlights Foundation: https://www.highlightsfoundation.org/native-creatives-cabin-at-the-highlights-foundation/
You can make a donation here.
Thank you for your support!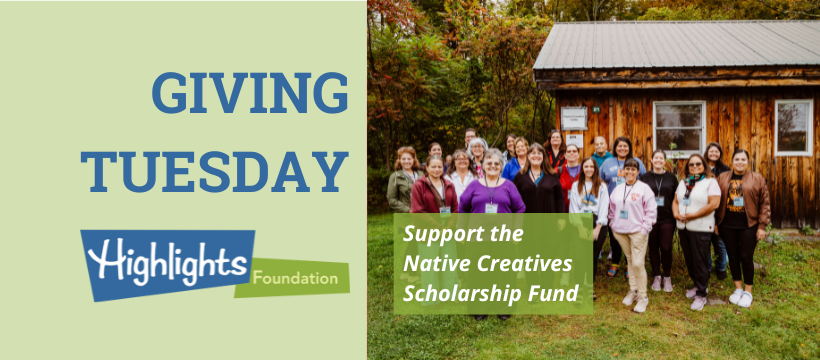 Leslie Widener received a Native Creatives Scholarship and came to our Native Creatives Retreat. She says: "I had such a wonderful time meeting new people and old friends.  I've been to a few other writing workshops at Highlights and they were equally as wonderful."
She adds: "I would encourage you to apply – you never know if you don't apply! There are plenty of scholarships. If you are interested in coming, you should [also] think about maybe donating money for a scholarship because they are so important for writers. Money is always an issue when you're in a creative job.  Highlights is wonderful and I hope everyone can come to at least one [workshop] because if you come to at least one you're going to come to more."