Educator and writer Karen Lindeborg has been building her craft since 2011, attending SCBWI conferences and taking Highlights Foundation workshops. In 2022, she was awarded the Richard H. Bill Scholarship for Educators and used it to attend Getting Your MG or YA Novel Unstuck, an on-demand course. She applied again in 2023 and was awarded the Jane Yolen and Heidi EY Stemple Scholarship, which she is using to attend Just Do It! Your Collaborative Support Group for Finishing Your Draft.
Jane and Heidi's scholarship was especially meaningful to Karen, and she wrote to tell us why:
I am honored to receive the Jane Yolen and Heidi EY Stemple Scholarship this year. It means so much for so many reasons.
In 2011, I attended my first New England SCBWI Spring Conference and went on to attend many SCBWI events over the years, including the New England Spring Conference in 2016 when Jane took this picture with me during the book signing.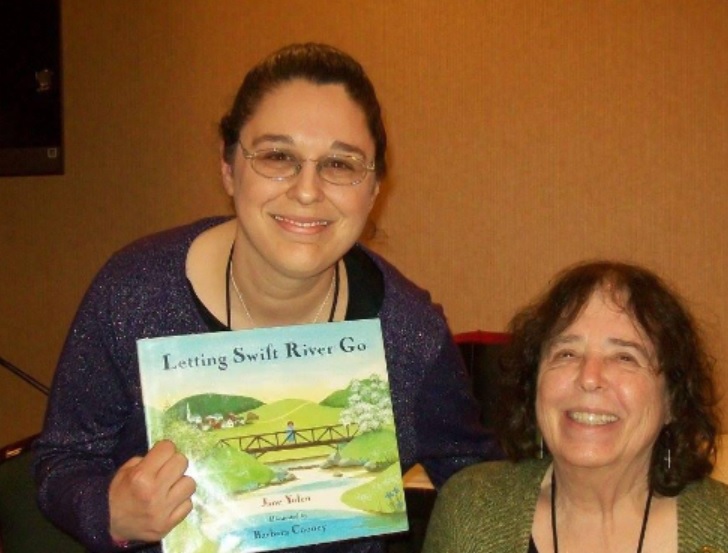 That year, I was working at my former elementary school as a library para. I came across one of Jane's books. It was donated to the library in memory of my third grade teacher, Mrs. Clay, who encouraged my writing and made me believe that I was an author. When Jane signed this book at the conference, it felt like such a full circle moment to bring this autographed copy back to my former elementary school in memory of a teacher who had such a profound impact on me as an educator, writer, and person.
Only the circle wasn't as complete as I thought it was at the time!
In 2020, I got sick the weekend I should have been at the New England SCBWI Conference. This started a long health journey and halted my writing. I waited months for every appointment, test, and procedure and was about to restart teaching in person even though I still had very few answers. I saw a post online that Heidi had made masks and was giving them to educators and librarians. I emailed her and she sent some to me. I was so grateful for them!
I could never have grown as a writer without the New England chapter of SCBWI that Jane started. My critique groups have grown because of it too.  Lives have been changed because of Jane, Heidi, and their work in the children's book industry.
My experiences with SCBWI brought me to the Highlights Foundation in search of new classes and a chance to expand my writing community. With last year's scholarship I found even more of what I needed to get back into writing after pausing during the pandemic.
I am excited to use this year's scholarship, named for Jane and Heidi. Now, it really is a full circle moment.  This recognition, validation, and support means more than anyone will ever know.
From the Westerly Sun: Pawcatuck's Karen Lindeborg receives scholarship from Highlights Foundation.