COVER REVEAL: Old Clothes for Dinner?!
Written by Nathalie Alonso, Illustrated by Natalia Rojas Castro
Barefoot Books, Pub Date: March 12, 2024
The Highlights Foundation is honored to celebrate our friend Nathalie Alonso by revealing the cover for her debut picture book!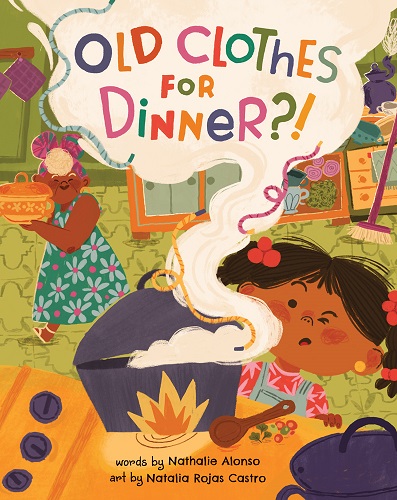 Nathalie first joined us as in a student in 2014.  She took the Crash Course in Children's Publishing in 2018.  She went on to become a part of our Diversity Fellowship in 2019, and has also joined us for several other workshops along the way—both as a student, and most recently, as faculty.  She's a journalist, and now an emerging author with several forthcoming titles. Find out more about Nathalie here.
She says: "As a nonfiction writer, I never thought I was capable of writing fiction, much less something humorous. With the support of the Highlights Foundation Diversity Fellowship and my mentor Emma Otheguy, I was able to step out of my comfort zone and turn a story that I'd set aside for years into a book that's very close to my Cuban American heart.  I'm so happy to celebrate the cover reveal of my debut during Latinx & Hispanic Heritage Month, with an organization that I love."
From Barefoot Books:
Old Clothes for Dinner?! is a laugh-out-loud, memorable story about a multi-generational Cuban American family written by a Cuban American author.
Magaly enjoys the yummy Cuban food her Abuela has been cooking since arriving from Havana, but when Magaly's sweater goes missing, she discovers that Abuela is making ropa vieja for dinner. Old clothes for dinner? Yuck! Magaly needs to hide the rest of her clothes before her family eats them up.
Congratulations Nathalie, and we can't wait to see kids enjoying and learning through your book next year!