From Grace Lin and Debbi Michiko Florence:
We had the honor and privilege of hosting the second annual Asian and Asian American Voices In-Community Retreat at the Highlights Foundation in May.
2022 was the inaugural year, with 16 voices. This year, we welcomed 24 voices.  Both were moving experiences.  We made connections, found inspiration, and created. But, most importantly, we built (and are continuing to build) a community that will bring stories to kids.
This community was what we envisioned when we approached George Brown, Executive Director of The Highlights Foundation, to host these retreats on the campus.
Grace saw it as an opportunity to create the children's book support and friend group she never had – but needed – when she was starting in the industry. Debbi saw it as a way to build connections and grow the community. Overall, we both knew that a safe place for Asian and Asian American voices to create stories for kids was not only desired, but needed—for now and for the future, as well.
While we were on campus with George for the retreat this year, a new initiative was born: the Asian American Voices Cabin on the Highlights Foundation campus!
This cabin sponsorship will enable us to fund the Asian & Asian American Storyteller Scholarship and the Pacific Islander Storyteller Scholarship for three years and establish the cabin honoring the Asian American community (including artwork and books).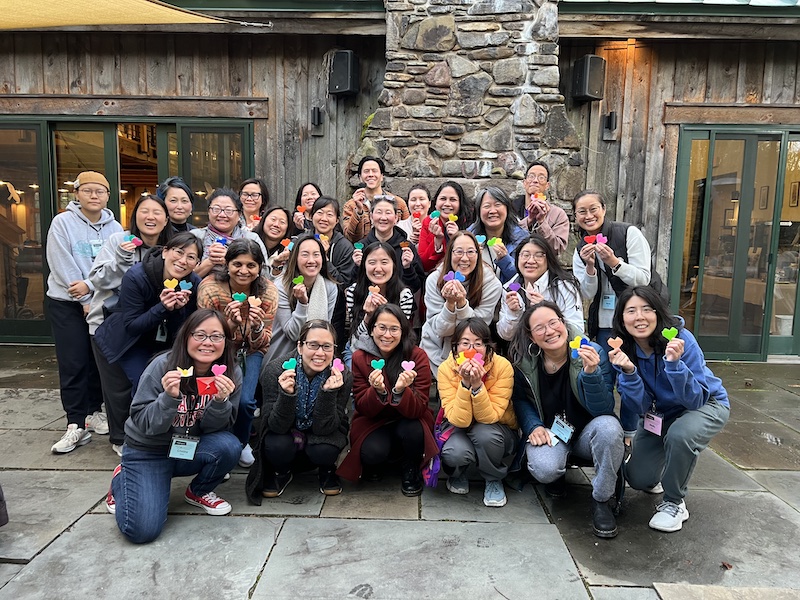 When visitors come to the cabin, they'll be surrounded and inspired by the work of our community, and our Asian American voices will be seen, heard, and amplified at the Highlights Foundation.  The scholarships will play a meaningful role as they support Asian, Asian American, and Pacific Islander storytellers who inspire children through story.
To support this initiative, we are running a fundraising campaign that will sponsor the Asian American Voices Cabin at the Highlights Foundation for three years.
It has two main parts:
We hope you will consider helping us to sponsor this cabin and celebrate our community of Asian American voices.  Every dollar counts!
Thank you!
support via the GoFundMe:
(donations matched to $5,000!)