Welcome to our Community Celebration Station!
This is the place where we'll share the good news and more that we hear from our community.
Our team tries our best to compile these posts.  If we missed you, or if you have a new story or a piece of good news to share, please let us know here.  We'd love to hear from you!
Highlights Foundation Alum Shares Her Debut Picture Book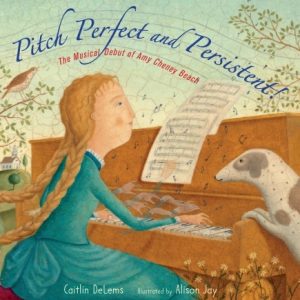 Highlights Foundation alum Caitlin DeLems celebrates her debut picture book (PITCH PERFECT AND PERSISTENT! THE MUSICAL DEBUT OF AMY CHENEY BEACH) with a blog post about research and honing her craft for Nerdy Book Club.
Congratulations on your debut!
A First Novel, and Paying It Forward
We received this lovely note from Bill Thomas with a donation:
Yesterday I received a check, a partial advance on my first children's novel, a story which first saw the light of day at a workshop back in 2013. The guidance, feedback, suggestions, and support I received then, and at the subsequent Highlights workshops I've attended, made that book possible and laid the foundation for the books I'm still writing.
Congratulations Bill, and thank you for being a part of our community!
A Debut Book Deal

Congratulations to Anna Lapera on the acquisition of her debut!  You may recognize Anna as one of the past monitors of several Highlights Foundation online courses.  Read the announcement in Publishers Weekly.
Retreat, Support, and a Finished Book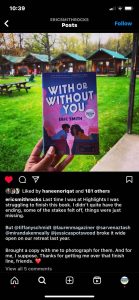 We love seeing posts like this.  On Instagram, author Eric Smith wrote:
Last time I was at Highlights I was struggling to finish this book. I didn't quite have the ending, some of the stakes felt off, things were just missing. But @tiffanyschmidt, @lauremagaziner, @sarvenaztash, @mirandakenneally, @jessicaspotswood broke it wide open on our retreat last year. Brought a copy with me to photograph for them. And for me, I suppose. Thanks for getting me over that finish line, friends.
A New Book Deal for Highlights Foundation Alum Nathalie Alonso

Nathalie attended several Highlights Foundation workshops, including our Crash Course in Children's Publishing. She was also a Diversity fellow, and is now on our Faculty.
Last year, she wrote us an email update about several books she had under contract. She summed it up by saying:
…The Highlights Foundation [is] a huge part of this life-changing success I'm enjoying, and I will always make giving back to Highlights a priority.
Congratulations again and thank you, Nathalie!
Signed Copy of a Meaningful Debut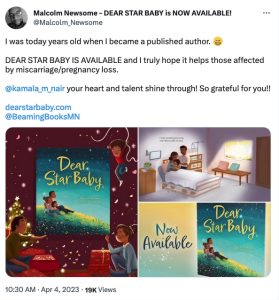 Malcolm Newsome visited us on campus just shortly before his debut picture book (DEAR STAR BABY) was released.  We saw this tweet, and found a signed copy he left for us in our library.  He said:
Thank you for stewarding such a remarkable place that's so full of love and all good and wonderful things. The retreat campus has nourished my soul.
Congratulations on your debut, Malcolm!
A New Book Deal

Congratulations to Highlights Foundaiton alumnus Nadia Hohn on a new book deal!  Patty Dream will be published in Spring 2025.  She also celebrated the release of MALAIKA, CARNIVAL QUEEN on May 6, 2023.
Book Birthday Celebration!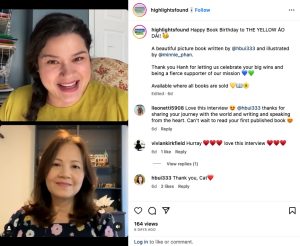 We celebrated a book birthday for THE YELLOW ÁO DÁI with author Hanh Bui on Instagram Live.  She talked about what inspired the book, and her journey with Highlights.  See the video here.  Congratulations Hanh!  We are honored to be a part of your journey in bringing this story to kids.
Research During a Personal Retreat Leads to a Debut
Vivian Kirkfield (a Highlights Foundation friend and scholarship donor) also runs #50PreciousWords. 
Melissa Trempe, a 2023 #50PreciousWordsWinner, chose a Highlights Foundation personal retreat for her prize.  She shared:
For my [birthday], I celebrated by going to Highlights (by myself during the darker days of Covid). I was doing research in my cabin when I quite by accident stumbled on a fascinating fact and seed of an idea that eventually grew into my debut PB called LADYBUG LAUNCH: INSPIRED BY A TRUE STORY OF CHINITAS IN SPACE coming out next year with Simon & Schuster! […]  This is also what led to my 50 Precious Words because through my research I learned that this NASA mission was the 1st to have a female commander…Eileen Collins! So in a strange, circular way, the Highlights Foundation led me to my debut AND my 50 Precious Words. It is only fitting that I complete the circle and go back!
LADYBUG LAUNCH: INSPIRED BY A TRUE STORY OF CHINITAS IN SPACE, is co-authored with Dr. Natalia Ojeda and illustrated by Manu Montoya. It will release in the spring of 2024. Congratulations Melissa!
Crash Course and Summer Camp Alum Shares Book News and Thanks
We've enjoyed getting to know author Donna Bozzone over the years.
She wrote us an email update about a new book contract, and shared:
The other objective of this note is for me to express my gratitude for the help, support, and learning opportunities I have experienced at Highlights. I am a much better writer than I would have been had I not spent time at the Barn (and online).
Congratulations Donna, and thanks for the kind words!
Collaboration and a Book Born at the Highlights Foundation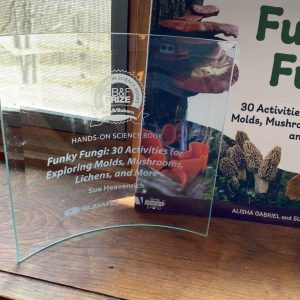 We got this news from Sue Heavenrich, who met co-author Alisha Gabriel at a Highlights Foundation workshop:
So, that little "pandemic project" book that Alisha Gabriel and I wrote has won a prize. Funky Fungi: 30 Activities for Exploring Molds, Mushrooms, Lichens, and More was chosen as a finalist for the 2023 AAAS/Subaru SB&F Prize for Excellence in Science Books in the Children's Science Activity Book category. Today the FedEx van dropped this beautiful plaque off, and I wanted to share it with you. Especially since it was a walk in the woods during one of the Highlights Foundation workshops that started the whole thing… (oh look! what's that weird thing? it's some kind of fungus!) You never know what will inspire a kid's book.
Congratulations, Sue and Alisha!  For more of the story of how the book came about, read here.
New Venture Launched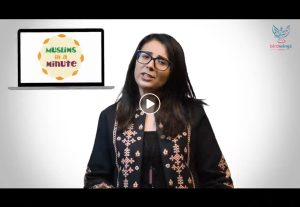 Diversity fellow, committee member, and friend of the Highlights Foundation Narmeen Lakhani launched a new venture, Birdwings Media.  From the website:
Why? Because I have a profound conviction that the stories we tell our kids will significantly impact the ways in which they show up for each other as human beings, ten, twenty, fifty years from now, irrespective of their backgrounds.
Highlights Foundation Alum Featured by NPR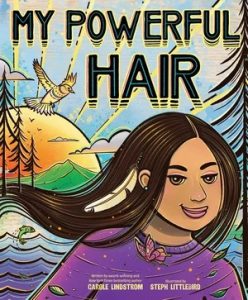 Highlights Foundation alum and friend Carol Lindstrom (and her picture book MY POWERFUL HAIR) were featured by NPR.  See it here.  The book is also illustrated by 2023 Highlights Foundation scholarship recipient Steph Littlebird.
Jamilah Thompkins-Bigelow Featured on TV News Segment
Muslim Storytellers Fellowship Mentor/Committee Member and Highlights Foundation Faculty Member Jamilah Thompkins-Bigelow was featured in a TV news segment on ABC 7 New York.  See the segment here.  Congratulations Jamilah!
Highlights Foundation Scholarship Recipient and Now Faculty Interviewed by NPR
Highlights Foundation scholarship recipient (now faculty member and friend) Traci Sorell was interviewed by NPR's Miles Parks about CONTENDERS: TWO NATIVE BASEBALL PLAYERS, ONE WORLD SERIES, her upcoming book with Arigon Starr.  Access the interview here.
Congratulations Traci!
Golden Kite Award Winner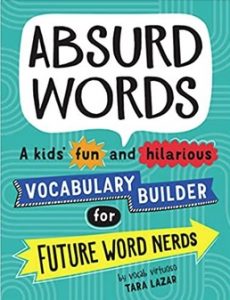 Congratulations to Tara Lazar (Highlights Foundation faculty and friend) on winning a 2023 SCBWI Golden Kite Award for ABSURD WORDS: A Kids' Fun & Hilarious Vocabulary Builder for Future Word Nerds.
She donated the award's charitable contribution to the Highlights Foundation.  Thank you Tara!
A Featured Love Letter to Poetry by a Highlights Foundation Alum (with Two New Books Coming)
Author and poet Nadine Pinede (and Highlights Foundation Whole Novel Alumni) asked us to share her Love Letter to Poetry featured on Diverse Verse.
We also want to congratulate her on two books deals announced last year: a YA historical novel-in-verse due out in fall 2024, and a poetry anthology due out in spring 2025.  (She mentions the poetry anthology in the video.)
Congratulations, Nadine!
More Good News On Our Blog