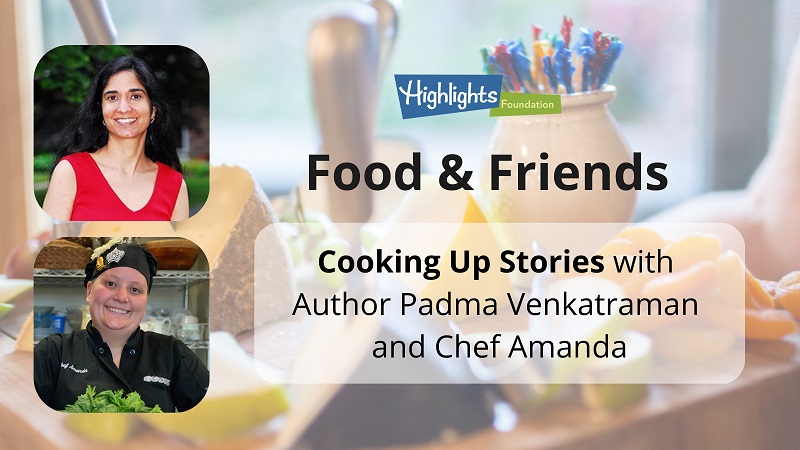 Every month, our Chef Amanda and author Padma Venkatraman pair up to share a recipe and writing prompt for our Highlights Foundation family. Padma creates the prompts based on a book from one of our Highlights Foundation faculty, and Chef Amanda shares a recipe from the kitchen at the Barn.
February 2023
Keep it Together, Keiko Carter, written by Debbi Michiko Florence
In Keep It Together, Keiko Carter, we meet three girls who are in seventh grade: Keiko (of course) and her hitherto best friends – Audrey and Jenna. Keiko wants desperately for the three of them to remain best friends, supporting one another as they tackle life together. But, as the very first paragraph warns us, the trio might be on the verge of breaking up.
Right away, with her description of chocolate (below), we gain an insight into Keiko's insecurity and worry – and we know, from these first few sentences, that Keiko is the peacekeeper, the one who yearns for the status quo, even though she's aware (and perhaps even more so precisely because she knows) that change is, inevitably, in the air. Chocolate becomes a metaphor for the friendship they had once shared.
Some people think that all chocolate is the same, but they're wrong. Chocolate can be buttery or bittersweet, crumbly or creamy. Some chocolates have undertones of cherry or coffee or vanilla. My friendship with my best friends was like the best high-quality chocolate – sweet and smooth. Or at least, it had been. Right now, I wasn't sure, and I just wanted things to get back to normal.
Writing Prompt from Padma:
Do you love chocolate? Does your character love it? Why or why not?
I'll admit I love it but I only ever buy fair trade chocolate, because of the terrible atrocities that have been committed in the chocolate industry. If you're reading this column, I have to ask you to read THE BITTER SIDE OF SWEET to gain a deeper understanding and inform yourself of this aspect of chocolate.
Now onto our writing prompt…
Write a sentence or poem or paragraph, using chocolate (or some other food) as a metaphor in some way. Notice how our example from Keep It Together, Keiko Carter uses chocolate to bring to mind the turn from "sweet" to "bittersweet" relating to friendship in such a subtle way.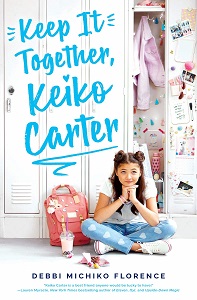 Recipe from Chef Amanda: Chocolate Truffles
Ingredients
2 cups of chocolate chips, either dark, milk or semis sweet chocolate
1 cup of heavy cream
2 teaspoon pure vanilla extract
Toppings: unsweetened cocoa powder, sprinkles, crushed nuts, crushed up
Freeze dried berries etc. Use your imagination!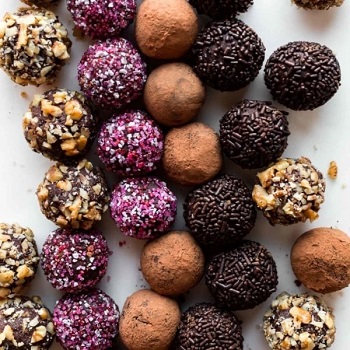 Instructions
Place the chocolate in a heat-proof bowl. Set aside.
Heat the heavy cream until it is simmering. You can heat it on the stove or in the microwave.
Let the warm cream and chocolate sit for 5 minutes.
Add the vanilla extract then stir until the chocolate has completely melted. Place a piece of plastic wrap directly on the surface (to avoid condensation) and refrigerate for 1-2 hours. Tip: Pour into a flat shallow dish, such as a 8×8 inch baking pan, so the mixture evenly and quickly sets.
Scoop the set truffle mixture into 2 teaspoon-sized mounds. (A small cookie scoop is a perfect size.) For larger truffles, use 1 tablespoon sized-mounds. Roll each into balls.
Roll each into toppings, if desired. Truffles taste best at room temperature!
Cover tightly and store truffles at room temperature for 3-4 days or in the refrigerator for up to 2 weeks.
About the authors–and the chef!
Debbi Michiko Florence is the author of upper middle grade novels Sweet and Sour, Keep It Together, Keiko Carter,  Just Be Cool, Jenna Sakai, and This Is How I Roll. She is also the author of three chapter books series including Jasmine Toguchi with four new books: Jasmine Toguchi Brave Explorer (Book 5), Jasmine Toguchi Peace-Maker (Book 6), Jasmine Toguchi Bridge Builder (Book 7), and Jasmine Toguchi Great Gardener (Book 8.) Follow Jasmine as she travels to Japan on vacation! And Debbi co-authored a picture book biography, Niki Nakayama: A Chef's Tale in 13 Bites.
A former classroom teacher, Debbi has spoken on panels at conferences and book festivals, taught writing workshops for children and adults, and loves doing author visits at schools and libraries. She is on the faculty of The Highlights Foundation.
Before becoming a full-time writer, Debbi was a raptor rehabilitator, outdoor educator, and a zoo educator. A third-generation Japanese American, born and raised in California, Debbi now lives in Connecticut with her husband and rescue dog Kiku where she writes in her studio, The Word Nest. She enjoys running and hiking, and loves to travel with her husband and daughter. Her favorite foods are sushi, ramen, and chocolate.
Padma Venkatraman is the award-winning author of five novels for young people: Climbing the Stairs, Island's End, A Time to Dance, The Bridge Home, and most recently, Born Behind Bars (a companion novel to The Bridge Home). Born Behind Bars is a Parents Magazine Book of the Month book club pick and Junior Library Guild selection. It was released to starred reviews last fall, and is on Kirkus, SLJ, and other best book of the year lists. The New York Times Book Review described Venkatraman's writing as a "confidently stripped down, crystalline style…Borrowing elements of fable" and the Providence Journal called Born Behind Bars a "tale of hardship and hope, capable of making a grown person cry." in addition to her novels, Padma's poetry has been published in literary journals such as Mobius, Snowy Egret, Parnassus, The Delhi London Poetry Quarterly and most notably Poetry magazine; and she is the founder of Diverse Verse. Follow Padma on twitter (@padmatv), visit her website www.padmavenkatraman.com, or meet her on ig/fb (@venkatraman.padma).
Amanda Richards is the executive chef at the Highlights Foundation. Although her scholastic background is i elementary education, she has always had a love of cooking and apprenticed under chef Marcia Dunsmore here at the Retreat Center. She's a Food Network devotee and grew up watching Julia Child.