We'd like to thank
Traci Sorell
, author and Highlights Foundation faculty member, for this blog post.
Note: to see closed captions in the videos below, hover over the bottom of the video and choose the "CC" icon.
---
Whether through words or art, Indigenous storytellers convey connection and community through their craft. But the entry point for creating works for young people is not so easy to locate. As the United States wraps up observing Native American Heritage Month, it is critical to increase the number of Indigenous writers and artists sharing their work with young people. With over 574 Native Nations within U.S. borders alone, the Highlights Foundation recognizes that many more stories remain untold. Just as my writing career has received incredible support from the Highlights Foundation (read about that here), I am partnering with them to help even more Native storytellers share their works with readers everywhere. To do this, we're currently remaking cabin 21 into the Native Creatives Cabin:
---
Trade publishers of Native created books have already started sending those works to display on the bookshelves: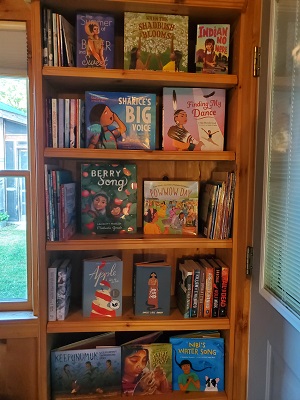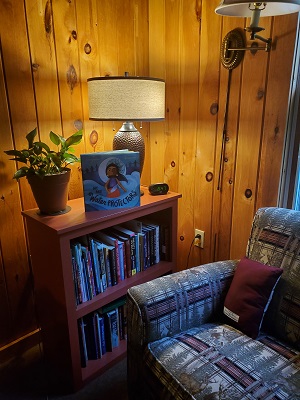 I've purchased art from Indigenous kidlit artists to adorn the cabin's walls and replaced the outside furniture on the screened porch:
More changes will be forthcoming in the months ahead! The goal is to create a nurturing space for a Native creative to work, rest and enjoy the beautiful retreat center located on Lenapehoking (the land of the Lenape Nation).
How can you help with this effort?
Donating to the Native Creatives Scholarship fund is key:
Your donation allows Native writers and artists to take courses online or in-person that focus on craft development, e.g. an illustration workshop, a novel-in-verse course, or the nonfiction summer camp. They may also choose a personal retreat for uninterrupted time to finish or edit a manuscript or prepare final art. We look forward to these additional stories that will be available for all young people because of your support. Wado (thank you) in advance for your generosity, Traci Sorell
---
Cherokee Nation citizen and award-winning author Traci Sorell writes fiction and nonfiction for young people. A former federal Indigenous law attorney and advocate, Traci lives with her family on her tribe's reservation in northeastern Oklahoma. Find out more about her work online at www.tracisorell.com or @tracisorell via Instagram.
Traci talks about her Highlights Foundation experience: