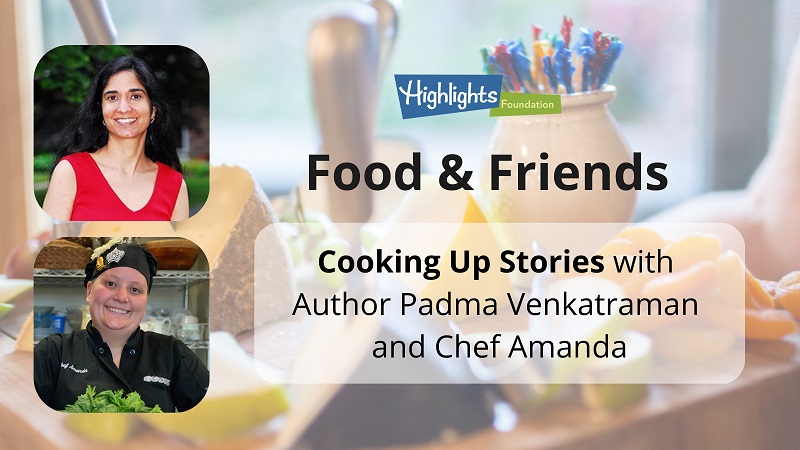 Every month, our Chef Amanda and author Padma Venkatraman pair up to share a recipe and writing prompt for our Highlights Foundation family. Padma creates the prompts based on a book from one of our Highlights Foundation faculty, and Chef Amanda shares a recipe from the kitchen at the Barn.
November 2022
Me (Moth) written by Amber McBride
"Two years after a devastating car accident killed her family as they drove from New York to northern Virginia, aspiring dancer Moth, the Black granddaughter of a Hoodoo rootworker, is still navigating the accident's fallout…When a new student—talented Navajo musician Sani—shows up in her junior homeroom class, Moth finds a kindred spirit whose similarly painful past and physically abusive stepfather compound his depression."—Publishers Weekly
Me (Moth) was a 2021 National Book Award Finalist, and the debut, young-adult verse novel for author Amber McBride. In stunning verse, we enter the viewpoint of Moth—a sensitive, adolescent girl who feels shunned and unseen by the world. There is only one boy who notices her—a kind, wonderful and gentle soul, Sani.
When the two decide to take a road trip together, they explore questions of identity and belonging, survival and spirituality, and begin to understand what their existence owes to their ancestors.
CALL ME (MOTH)
That's what my parents (Jim & Marcia) named me.
My bother got a "normal" name: Zachary.
My mom's sister (Mary)
Didn't like the name her parents (William & Juliet) gave her.
She changed her name to Jacqueline.
(Jack) for short.
I've thought about changing my name.
Especially now
With no one to really mind.
Given or replaced, names hang to your bones like forever suites.
When I die people will still say, (Moth),
she was great at dancing before she stopped.
She might have gone all the way,
Danced at Julliard, been the next Misty Copeland.
Like I still say, Zachary was a pyromaniac, which is probably why,
With a name like Moth, we were the musketeers of night—
The torch & the moth.
Like I still say, Jim and Marcia were really into Shakespeare,
their favorite play was A Midsummer Night's Dream.
Names outgrow you, like a garden left untended;
they don't disappear
with the science that keeps our bodies alive.
Jesus is still Jesus, alive, dead & Resurrected—
& if we forget, headstones remind us that names
slouch on without bodies.
So even though my name is strange
I have to live with it.
It has been with my nerves for far too long;
my name is a thick wilderness
of angelica root around me,
crafted for my spirit.
& mostly because that is what they
(Jim & Marcia) named me.
Writing Prompt from Padma: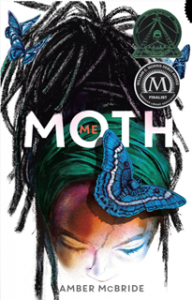 As all authors well know, we don't entirely control what our book covers look like, yet we can still imagine one.
I love the cover of Me (Moth) because it captures what I love about the book itself. The cover feels like a lyrical combination of real and surreal, of the concrete and the spiritual.
Think of a piece you are writing. What sort of image do you think would best capture the feel of your piece? A graphic illustration? A photograph? A line sketch? What illustration style do you think goes well with your writing style?
Invite images into your mind and explore them for a while. Yes, I'm telling you to daydream – but with some intention. Dreams are, I truly believe, an amazing (sub)liminal space to access as we write. Go ahead and set a timer, so you don't dream away all day.
After daydreaming, return to your writing desk. Do the images help you shape or deepen some aspect of your piece?
Recipe for Iced Butterfly Pea Flower Tea
Highlights Foundation Team Member Linda Glennen is filling in for Chef Amanda this month, sharing her steps for making a visitor favorite beverage.
Boil water.
Pour hot water over Butterfly Pea Flower teabag (use several if you want to make a pitcher.)
Let it steep for 10 minutes.
Add ice.
Add lemon slices and/or honey/sweetener to taste.
Enjoy the flavor and the color!
About the authors–and the chef!
Amber McBride attended James Madison University and was a Pre-Med Major for two years before she decided to switch to English with a Creative Writing and African Studies minor. She attended graduate school at Emerson College in Boston, MA where she earned her Master's in Fine Arts with a concentration in poetry. There she wrote her master's thesis, Tattooed Dove, which is also the name of her lifestyle blog. After grad school Amber worked as the media assistant at the Furious Flower Poetry Center for two years. Established in 1994 Furious Flower is the nation's first academic center for Black poetry. Searching for more diversity in the students she taught, Amber started teaching at Northern Virginia Community College. This is also when she started writing books for young adults. Amber now teaches at the University of Virginia. You can follow her on Instagram: @ambsmcbride and twitter: @ambsmcbride
Padma Venkatraman is the award-winning author of five novels for young people: Climbing the Stairs, Island's End, A Time to Dance, The Bridge Home, and most recently, Born Behind Bars (a companion novel to The Bridge Home). Born Behind Bars is a Parents Magazine Book of the Month book club pick and Junior Library Guild selection. It was released to starred reviews last fall, and is on Kirkus, SLJ, and other best book of the year lists. The New York Times Book Review described Venkatraman's writing as a "confidently stripped down, crystalline style…Borrowing elements of fable" and the Providence Journal called Born Behind Bars a "tale of hardship and hope, capable of making a grown person cry." in addition to her novels, Padma's poetry has been published in literary journals such as Mobius, Snowy Egret, Parnassus, The Delhi London Poetry Quarterly and most notably Poetry magazine; and she is the founder of Diverse Verse. Follow Padma on twitter (@padmatv), visit her website www.padmavenkatraman.com, or meet her on ig/fb (@venkatraman.padma).
Amanda Richards is the executive chef at the Highlights Foundation. Although her scholastic background is i elementary education, she has always had a love of cooking and apprenticed under chef Marcia Dunsmore here at the Retreat Center. She's a Food Network devotee and grew up watching Julia Child.