Writing a chapter book series has its own rewards and challenges. Like a house guest, a series character stays with you for a long time and preparation is the key. Our workshop will focus on writing chapter books for readers ages 6-10. We will discuss, share, and explore ideas as well as do writing exercising to help you with planning and penning your chapter book series.
Here are 4 things to consider before beginning a chapter book series:
Premise
Character
Emotions
Continuity and connection across the series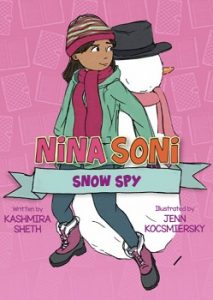 I usually start with the main character. For example, in the Nina Soni series:
Character: Nina Soni is a math-loving, word-defining girl. She is a scatter-brain and that creates problems for her. Nina tries to tackle that problem with list-making. This leads to over-thinking and creates additional complications for Nina.
Emotions: Nina's love for her family and friends is the central part of who she is. This emotional truth about Nina propels her story. In Nina Soni, Sister Fixer, Nina is bored at the start of spring break. It's rainy and her friend Jay is gone. On top of that, she is frustrated and slightly embarrassed by her sister Kavita's song-making and singing. So Nina sets out to do something about it. In the end Nina realizes that her sister is unique, just like her. Nina's bond with her sister is strengthened by it.
Continuity and connection across the series: Knowing Nina's character is crucial for me to keep her voice clear and recognizable in each book. No matter what the premise of the story is, Nina's list-making, word-defining and math-solving skills are always present. Her scatter-brain, over-thinking traits get her into sticky situations but they also help her understand her world and propel her growth. For example, in Nina Soni, Snow Spy, Nina makes lists, compiles a spy-word vocabulary, figures out how many snowballs she needs to make her fort. When her plans go haywire she learns that she had fun even though things didn't go the way she had envisioned.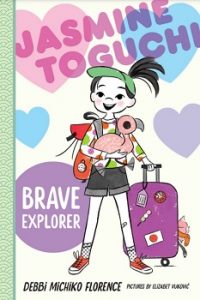 I asked my co-faculty, Debbi Michiko Florence, to share some of her process. She says:
I tend to start my stories with a premise and that premise helps shape my characters.
Premise: For Jasmine Toguchi: Mochi Queen I knew the story was going to be about a girl who wanted to break with family tradition and pound steamed rice into mochi with the boys of the family, instead of shaping and rolling mochi with the women.
Character Traits: Knowing this premise helped me shape Jasmine Toguchi's character and personality. What kind of girl would want to challenge family rules? Someone who is confident. Someone who isn't afraid of being different (and in fact embraces individuality). So I knew Jasmine would be a go-getter and not afraid of speaking up.
Emotions: Knowing the premise also helped me figure out what drove Jasmine and her goal. She couldn't just want something without a reason. So I created an older sister who always got to do everything first and lorded it over Jasmine when she finally got a turn. This fueled Jasmine's desire to pound mochi because it was something her sister has never done nor would ever do. Jasmine would get to do something before her sister.
Here is a short list of some of our favorite chapter book series (focusing on books for newly independent readers, ages 6-10):
Pets Rule! by Susan Tan, illustrated by Wendy Tan Shiau Wei
13th Street by David Bowles, illustrated by Shane Clester
Mindy by Lyla Lee, illustrated by Dung Ho
Oh Sal (A Miller Family Story) written and illustrated by Kevin Henkes
Meet Yasmin! by Saadia Faruqi, illustrated by Hatem Aly
Word Travelers and the Taj Mahal Mystery by Raj Haldar, illustrated by Neha Rawat