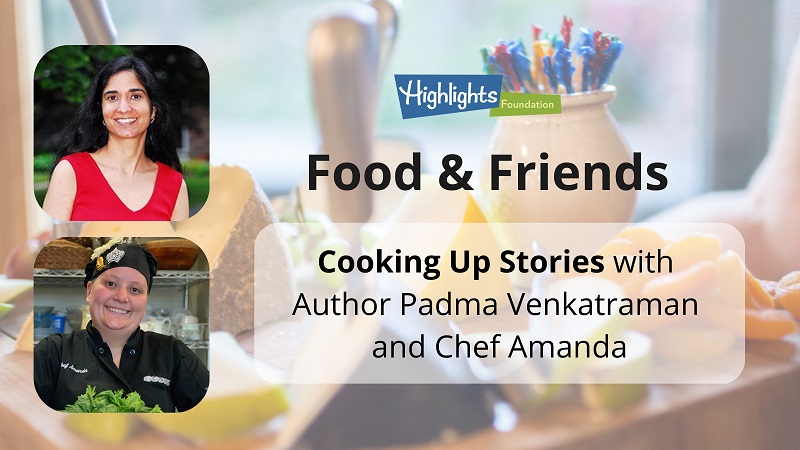 We love it when Chef Amanda and author Padma Venkatraman pair up to share a recipe and writing prompt for our Highlights Foundation family! Padma creates the prompts
AMERICA MY LOVE, AMERICA MY HEART, By Daria Peoples
Daria Peoples is the creative soul behind THIS IS IT (Greenwillow); I GOT NEXT (Greenwillow); SHOW THE WORLD (Written by Angela Dalton, published by Viking); GLORIA TAKES A STAND (Written by Jess Rinker, published by Bloomsbury); and AMERICA MY LOVE, AMERICA MY HEART (Greenwillow).
Featured as the 2021 – 2022 Artist at the Highlights Foundation, the images from AMERICA MY LOVE, AMERICA MY HEART graced the walls of the main gathering space (Watch the art reception here.)
From Padma: This book brought tears to not just my eyes but my heart – because it asks a question I have often asked, in the direct and profound voice of a child – "America, do you love me back?" A question that I, like the child narrator in the book, fear is answered experientially, in the negative.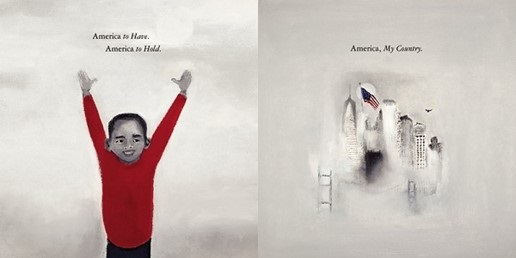 Let's look closely at a moving excerpt from this poetic exploration of what it means to be American.
Do you love my brave?
Do you love my bold?
Am I to have?
Am I to hold?
America, Land of the Free.
America, 'Tis of Thee.
America, I am you.
America, you are me.
Writing Prompt:
Choose a song or poem that is "patriotic" to you, as Daria Peoples has, and weave a phrase, or two, from that selection into your own song or poem.
If it feels right to you, you may wish to use questions, as Daria Peoples so eloquently does.
In your poem or song, you may wish to explore and celebrate your love for your nation, as Daria Peoples so powerfully does in AMERICA MY LOVE, AMERICA MY HEART.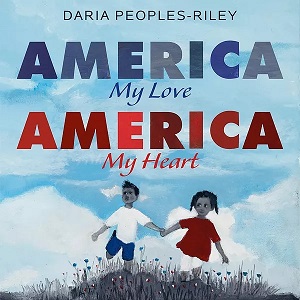 Recipe: Berry Scones
Ingredients
2 cups (250g) all-purpose flour (spoon  leveled), plus more for hands and work surface
1/2 cup (100g) granulated sugar
1/2 teaspoon salt
2 and 1/2 teaspoons baking powder
1/2 cup (1 stick; 115g) unsalted butter, frozen
1/2 cup (120ml) heavy cream or buttermilk (plus 2 Tbsp for brushing)
1 large egg
1 and 1/2 teaspoons pure vanilla extract
3/4 cup of frozen raspberries or strawberries or a combination of the two (cut the strawberries into smaller pieces)
3/4 cup of frozen blueberries
Powdered sugar for sprinkling after baking
Whisk flour, sugar, salt, and baking powder together in a large bowl. Grate the frozen butter using a box grater. Add it to the flour mixture and combine with a pastry cutter, two forks, or your fingers until the mixture comes together in pea-sized crumbs. Place in the refrigerator or freezer while you mix the wet ingredients together.
Whisk 1/2 cup heavy cream, the egg, and vanilla extract together in a small bowl. Drizzle over the flour mixture, add the add-ins, then mix together until everything appears moistened.
Keep mixing dough in the bowl until it comes together. Drop scones, about 1/4 cup of dough each, 3 inches apart on a lined baking sheet. A portion scoop or ice cream scoop works great for this.
Brush scones with remaining heavy cream and for extra crunch, sprinkle with coarse sugar. (You can do this before or after refrigerating in the next step.)
Place scones on a plate or lined baking sheet (if your fridge has space!) and refrigerate for at least 15 minutes.
Meanwhile, preheat oven to 400°F (204°C).
Line a large baking sheet with parchment paper or silicone baking mat(s). If making mini or drop scones, use 2 baking sheets. After refrigerating, arrange scones 2-3 inches apart on the prepared baking sheet(s).
Bake for 18-26 minutes or until golden brown around the edges and lightly browned on top. Larger scones take closer to 25 minutes. Remove from the oven and cool for a few minutes then sprinkle with powdered sugar.
Leftover scones keep well at room temperature for 2 days or in the refrigerator for 5 days.
Serve with fresh whipped cream if desired.
About the authors–and the chef!
Padma Venkatraman is the award-winning author of five novels for young people: Climbing the Stairs, Island's End, A Time to Dance, The Bridge Home, and most recently, Born Behind Bars (a companion novel to The Bridge Home). Born Behind Bars is a Parents Magazine Book of the Month book club pick and Junior Library Guild selection. It was released to starred reviews last fall, and is on Kirkus, SLJ, and other best book of the year lists. The New York Times Book Review described Venkatraman's writing as a "confidently stripped down, crystalline style…Borrowing elements of fable" and the Providence Journal called Born Behind Bars a "tale of hardship and hope, capable of making a grown person cry." in addition to her novels, Padma's poetry has been published in literary journals such as Mobius, Snowy Egret, Parnassus, The Delhi London Poetry Quarterly and most notably Poetry magazine; and she is the founder of Diverse Verse. Follow Padma on twitter (@padmatv), visit her website www.padmavenkatraman.com, or meet her on ig/fb (@venkatraman.padma).
Daria Peoples' first job was at nine years old in the children's section of her hometown library in Paso Robles, California. She worked a little, but she mostly read picture books. Daria loved basketball, drawing, and painting. Her dad gave her art lessons in their garage on Rose Lane, and Daria's mom rescued her first self-portrait from the kitchen trash can, and had it professionally framed the next day. Today, it hangs in her parents' living room as a reminder that our life's purpose almost always introduces itself to us as a child. Daria earned a BA in English from UC Santa Barbara, where she found herself shelving books in the library once again and reading the writings of many notable authors. After earning a Masters in Education and 10 years of teaching, Daria became a full-time author and illustrator. For more information, please visit dariapeoples.com.
Amanda Richards is the executive chef at the Highlights Foundation. Although her scholastic background is i elementary education, she has always had a love of cooking and apprenticed under chef Marcia Dunsmore here at the Retreat Center. She's a Food Network devotee and grew up watching Julia Child