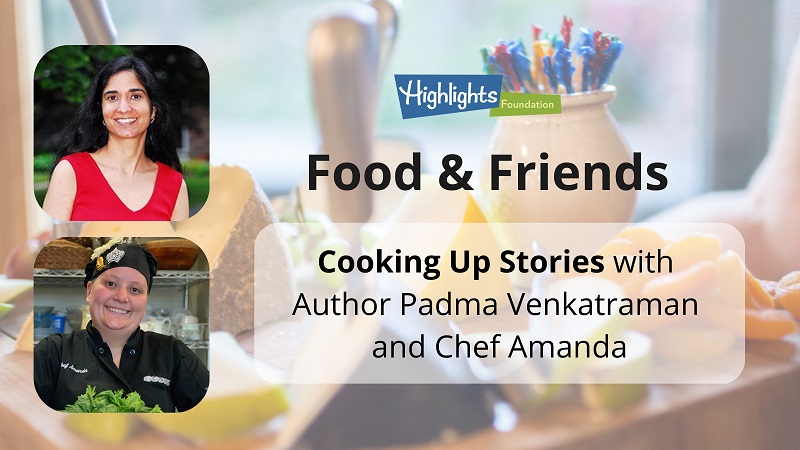 Every month, our Chef Amanda and author Padma Venkatraman pair up to share a recipe and writing prompt for our Highlights Foundation family. Padma creates the prompts based on a book from one of our Highlights Foundation faculty, and Chef Amanda shares a recipe from the kitchen at the Barn. You can always look at past prompts and recipes here.)
February 2022
Book: A PLACE AT THE TABLE, written by Saadia Faruqi & Laura Shovan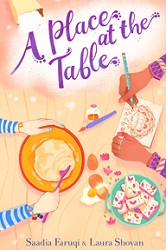 A PLACE AT THE TABLE is a critically acclaimed book about friendship and belonging. Kirkus shares, "Writing in alternating voices, the authors elegantly interweave issues of racism, financial insecurity, and mental illness into a familiar middle school narrative of identity formation…This tale of a diverse friendship tackles hard topics."
In A PLACE AT THE TABLE, sixth graders, Sara (a Pakistani American) and Elizabeth (a Jewish American), become friends when they take a cooking class together with Sara's mom. As their friendship grows so does the richness of the meals that they create together. As you can imagine, the book includes wonderful descriptions of food…Perfect for FOODIE FRIDAY!
Read the description below from Sara's first chapter (page 2). Pay attention to the details that allow us to visualize the school's kitchen as if we're looking at a picture:
Everyone stands in pairs in Poplar Springs Middle School's kitchen classroom, where I'll be taking FACS—Family and Consumer Science—later this year. I hang back from the group, near the giant metal appliances. There's an open kitchen with neatly stacked pots and pans, where the FACS teacher, Mrs. Kluckowski, does demonstrations. But there are also six cooking stations for kids – each with its own stovetop, oven, and sink. A metal island on wheels stands in the middle of the room. Mama waves and points, finally convincing everyone to gather around. Supplies for the club's first recipe are piled on the island: a brown bag labeled ZEBRA BASMATI RICE, a bucket full of onions and potatoes, a bunch of wilting cilantro, and a few bright tomatoes.

Thank God I'm not part of this stupid club, I think as I stretch out my legs on the floor and lean against the wall. It's an inconspicuous spot at the back of the kitchen, near the metal refrigerator. I make a small pile of my things on the floor: backpack, sketchbook, a can of still-cold Coke. It's not as if I'm trying to disappear, but I won't exactly be upset if these junior chefs don't notice me.
Writing Prompt by author Padma Venkatraman
Write your own description of a kitchen – your own kitchen, your character's kitchen, a kitchen at a restaurant or school or in another location. Add as much detail as you can to help your readers feel as if they've stepped into this kitchen. And make sure the description is interesting, as above. Notice that the excerpt from A PLACE AT THE TABLE doesn't simply make a list but takes you visually around the room and adds tone to the character's reaction to the space. A well written description of a place in a story can invite a reader to enter the story's world.
After setting up the kitchen scene, try Chef Amanda's recipe – and, if you are able, weave in some of the sensory details from preparing this recipe into your scene.
Recipe from Chef Amanda: Parmesan Risotto
Ingredients:
4 cups chicken or veggie stock
2 cups Arborio rice , uncooked
2 tbsp unsalted butter
1 cup of dry white wine
1/2 to 3/4 cup of heavy cream or half and half
2 good handfuls of shredded Parmesan cheese
1 tbsp fresh parsley , chopped
Heat 4 cups of stock on the stove until it is hot. Put Arborio rice in a separate pot with melted butter and sauté until it starts to get a little brown. Add white wine until absorbed and then add one ladle at a time of stock until it's all absorbed. When all of the cooking liquid is absorbed add in Parmesan and heavy cream. Stir until creamy and add parsley for garnish.
---
About the authors–and the chef!
Saadia Faruqi is a Pakistani American author, essayist and interfaith activist. She writes the children's early reader series "Yasmin" and other books for children, including middle grade novels A Place At The Table co-written with Laura Shovan (a Sydney Taylor Notable 2021), and A Thousand Questions (a South Asia Book Award Honor 2021). Her new book Yusuf Azeem Is Not A Hero</em? details the experiences of the Muslim American community twenty years after 9/11. Saadia is editor-in-chief of Blue Minaret, a magazine for Muslim art, poetry and prose, and was featured in Oprah Magazine in 2017 as a woman making a difference in her community. She lives in Houston, TX with her husband and children.
Laura Shovan is a children's author, educator, editor, and Pushcart Prize-nominated poet. Laura's debut novel-in-verse, The Last Fifth Grade of Emerson Elementary, won multiple awards, including NCTE Notable Verse Novel. Her novel Takedown was selected for Junior Library Guild, PJ Our Way, and the ALA's Amelia Bloomer Project. A Place at the Table, written with author/activist Saadia Faruqi, was named a Sydney Taylor Notable in 2021. Laura's books have appeared on multiple state lists. She is a longtime poet-in-the-schools in her home state of Maryland and a regular Poetry Friday blogger. Her writing for children appears in many anthologies, most recently Hop To It: Poems to Get You Moving (Pomelo, 2020) and Coming of Age: 13 B'nai Mitzvah Stories (Whitman, 2022).
Padma Venkatraman is the award-winning author of five novels for young people: Climbing the Stairs, Island's End, A Time to Dance, The Bridge Home, and most recently, Born Behind Bars (a companion novel to The Bridge Home). Born Behind Bars is a Parents Magazine Book of the Month book club pick and Junior Library Guild selection. It was released to starred reviews this fall, and is on Kirkus, SLJ, and other best book of the year lists. The New York Times Book Review described Venkatraman's writing as a "confidently stripped down, crystalline style…Borrowing elements of fable" and the Providence Journal called Born Behind Bars a "tale of hardship and hope, capable of making a grown person cry." Follow Padma on twitter (@padmatv), visit her website www.padmavenkatraman.com, or meet her on ig/fb (@venkatraman.padma).
Amanda Richards is the executive chef at the Highlights Foundation. Although her scholastic background is in elementary education, she has always had a love of cooking and apprenticed under chef Marcia Dunsmore here at the Retreat Center. She's a Food Network devotee and grew up watching Julia Child and others on PBS.