Paul Ruffins has taken four Highlights Foundation workshops.  Most recently, he attended The Whole Novel Workshop in August 2021.
After that workshop, Paul was awarded the 2022 SCBWI Emerging Voices Award for his manuscript.
We asked him to share a little bit about his experience with us.  He says:
Attending Highlights' 2021 Whole Novel Workshop was a life-changing investment in my middle-grade mystery, The SPED Squad and the Death of Short Bus 4.  I went in with a good story. However, after making the revisions suggested by Crystal Allen, my faculty mentor, my manuscript won the Society of Children's Book Writers and Illustrators 2022 Emerging Voices Award.

Many conferences and critique groups provide opportunities to get feedback on your first 10 pages. However, Sarah Aronson has designed the workshop many of us really need most. It's a chance to get extensive comments on your whole manuscript before you arrive, so you have time to solve the problems in a stimulating, supportive atmosphere.
Congratulations on your award, Paul, and thank you for being a part of our community!
About Paul Ruffins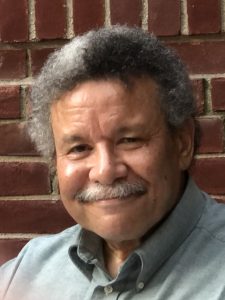 Paul Ruffins writes The Science of the City column for Streetcar Suburbs News. His articles have run in The Washington Post, The Los Angeles Times, and many other publications.
He won SCBWI's Emerging Voices Award for The SPED Squad and the Mysterious Death of Short Bus 4. The novel was inspired by his experiences teaching special education in a tough public school and by his own difficulties as an African-American student with a learning disability.
He studied psychology at Harvard and earned a Master's in Early Childhood and Special Education from the University of Notre Dame, Maryland.
The SPED Squad And The Mysterious Death of Short Bus 4 is an upper-middle-grade adventure. Adeben Burns is a black fixer-geek who's ashamed of being dyslexic in a family that reads three different newspapers every day. When a stolen bowling ball crashes his school bus into a tree, Adeben and four other learning-disabled detectives form the SPED Squad to track down the perpetrators. But before they can get revenge, respect, and a large cash reward, Adeben must first discover whether he really is smart enough to crack the case.