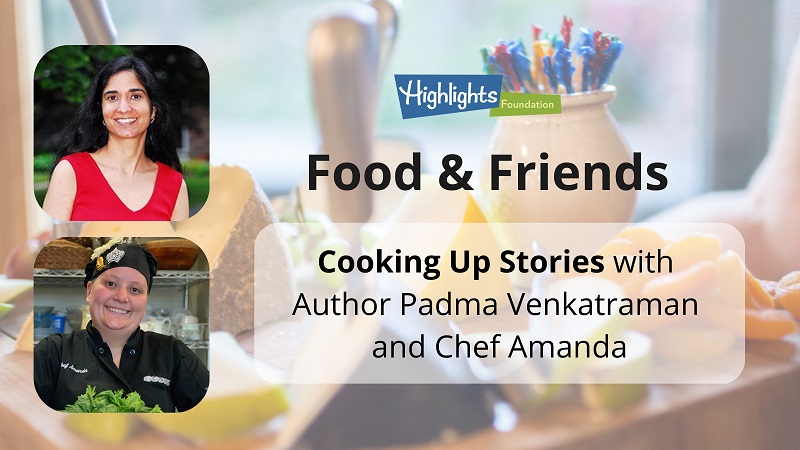 Every month, our Chef Amanda and author Padma Venkatraman pair up to share a recipe and writing prompt for our Highlights Foundation family. Padma creates the prompts based on a book from one of our Highlights Foundation faculty, and Chef Amanda shares a recipe from the kitchen at the Barn. You can always look at past prompts and recipes here.)
October 2021
Book: THE JUMBIES, written by Tracey Baptiste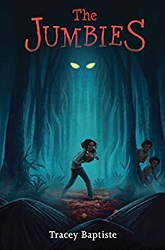 Tracey Baptiste shares with us the folklore of the jumbies through her Jumbies middle grade series, and her newly released picture book, Looking for a Jumbie. In the first book of the middle grade series, The Jumbies, we meet Corinne La Mer, at the heart of Caribbean folklore, adventure, and suspense.
A sample from The Jumbies:
Corinne La Mer's heart beat like wild drums as she ran through the forest.
Her bare feet stumbled over the dead leaves and protruding roots of the forest floor.
Writing prompt by Padma Venkatraman, author of Born Behind Bars, The Bridge Home, and other novels
Baptiste's first two sentences plunge us right into her spine-tingling story. We are wondering who (or what) Corinne is running from and the setting of a forest adds to the mystery and creepiness. Furthermore, we're told she's barefoot and stumbling. We wonder–will she fall or will she make it?
And we read on.
Inspired by these two first sentences, try writing your own spine-tingling piece–a story or a poem–beginning with a scene in which someone (person or animal) is running. You decide who or what they're running from, why, and whether they make it (and if not, what happens).
Use your own imagery to bring alive the runner's terror (just as Baptiste uses wild drums to show us Corinne's heart beat), and add details of setting to bring the scene alive. Make this scene as scary and exciting as you can–after reading The Jumbies for inspiration. Pay attention to the way that Baptiste packs as much information into each sentence as she can, while maintaining the smooth flow and readability of the story.
Recipe from Chef Amanda: Apple Crisp
Fall means both spine-tingling stories and fresh apples!
Directions:
Preheat oven to 350 F degrees. Butter an 8×8 baking dish, or spray with non-stick cooking spray.
In a mixing bowl, add sliced apples, granulated sugar, 3/4 tsp of the cinnamon. Stir to combine, then transfer to prepared baking dish.
In a separate mixing bowl, add topping ingredients (brown sugar, oats, flour, 1 tsp cinnamon, salt, and diced cold butter). Use a pastry cutter to cut the butter into the oat mixture, using a slight downward twisting motion, until mixture resembled pea-sized crumbs. If you don't have a pastry cutter you can use two forks or even your hands to cut butter into the mixture. A food processor works well using the pulse function too.
Spread topping over apples in baking dish, and gently pat to even it out. Bake 40-50 minutes, until golden brown and bubbly.
This is best served warm with some vanilla ice cream or fresh whipped cream on the top.
This can be made in advance and reheated as well.
---
Tracey Baptiste is the New York Times-bestselling author of Minecraft: The Crash, as well as The Jumbies series (the first book of which is a Global Read Aloud pick). African American Icons: Ten People Who Shaped History releases this month, while Looking for Jumbie came out just last month. She is a former elementary school teacher and on the faculty at Lesley University's Creative Writing MFA program.
Padma Venkatraman is the award-winning author of five novels for young people: Climbing the Stairs, Island's End, A Time to Dance, The Bridge Home, and most recently, Born Behind Bars (a companion novel to The Bridge Home) which was released to starred reviews this fall and is a Junior Library Guild selection.
Amanda Richards is the executive chef at the Highlights Foundation. Although her scholastic background is in elementary education, she has always had a love of cooking and apprenticed under chef Marcia Dunsmore here at the Retreat Center. She's a Food Network devotee and grew up watching Julia Child and others on PBS.