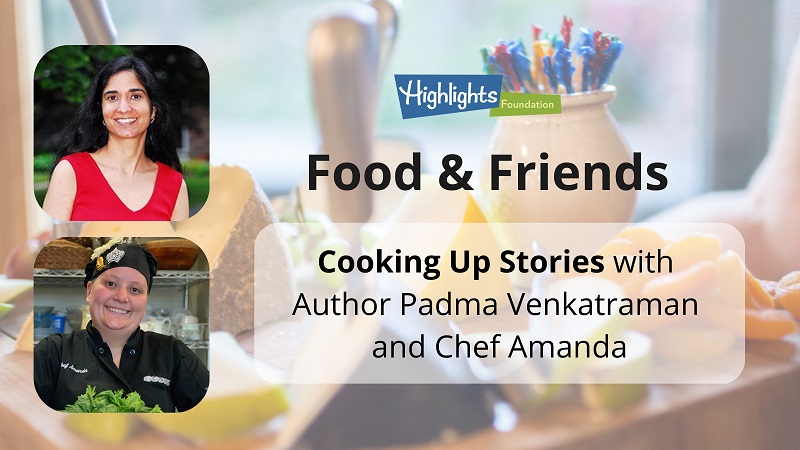 Every month, our Chef Amanda and author Padma Venkatraman pair up to share a recipe and writing prompt for our Highlights Foundation family. Padma creates the prompts based on a book from one of our Highlights Foundation faculty, and Chef Amanda shares a recipe from the kitchen at the Barn. You can always look at past prompts and recipes here.)
September 2021
Book: ORDINARY HAZARDS: A MEMOIR, written by Nikki Grimes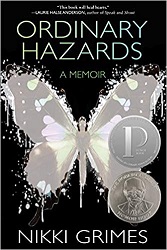 This powerful memoir-in-verse invites us into Nikki Grimes's childhood, adolescence, and beyond. We're brought into her notebooks—her poetry and writing that helped her find her voice. Addiction, abuse, mental health, families—found and generational, all find their ways to the pages, under the watchful eye of the poet. Nikki Grimes lays it all before us with honesty, resolve, questions, and faith.
From the book:
Each tangy morsel
transports me,
and I am thirteen again,
relishing a culinary treat
sweet with the hours
it took Grandma to make
this Maraschino cherry-topped
gooey offering of love.
About the author
In 2017, Nikki Grimes received the Children's Literature Legacy Award for substantial and lasting contributions to literature for children. ORDINARY HAZARDS was released in 2019 to multiple starred reviews and went on to garner honors as an ALA Michael Printz Honor Book, an ALA Robert F. Sibert Honor Book, among others. Her previous books include the Coretta Scott King Author Honor winner WORDS WITH WINGS, the Boston Globe-Horn Book Honor winning ONE LAST WORD, and the groundbreaking best seller BRONX MASQUERADE. Visit her at nikkigrimes.com or follow her on twitter @nikkigrimes9.
Writing Prompt by author Padma Venkatraman
In the above excerpt from Nikki Grimes's memoir in verse, the poet is transported back in time by the taste of a particular food item. Specificity such as this helps capture moments in our characters' lives and makes these moments stand out.
Does any delicacy have the power to transport you back in time? Close your eyes and think of this delicacy – see it, touch it, taste it, then take a deep breath of its fragrance in your mind.
Write about an incident or a person that this food memory serves, let yourself "time travel" to a place and time. Give us a sense of your connection between this certain dish and your specific memory.
Recipe from Chef Amanda: Karen's Cherry Wink Cookies:
Makes approximately 3 1/2 dozen cookies depending on cookie scoop size.
Ingredients:
One cup of butter
1 cup of sugar
Two eggs
1 teaspoon of vanilla
1 teaspoon of baking powder
3/4 of a teaspoon of salt
2 1/2 cups of flour
Approximately 21 Maraschino cherries cut in half
Directions:
Preheat oven to 350°.
Mix together baking powder, salt, and flour in a bowl and set aside. In a large mixing bowl or a stand mixer, cream together butter, sugar, eggs, and vanilla until light and fluffy. Slowly add the dry ingredients until incorporated.
Using a small cookie scoop or 2 Teaspoons place rounded balls of dough 2 inches apart on a parchment lined cookie sheet. Place half of a cherry on top of the center of the cookie. Bake at 350° for 7 to 10 minutes. Allow to cool before eating
---
Amanda Richards is the executive chef at the Highlights Foundation. Although her scholastic background is in elementary education, she has always had a love of cooking and apprenticed under chef Marcia Dunsmore here at the Retreat Center. She's a Food Network devotee and grew up watching Julia Child and others on PBS.
Padma Venkatraman is the author of THE BRIDGE HOME, A TIME TO DANCE, ISLAND'S END, CLIMBING THE STAIRS–and, most recently, BORN BEHIND BARS. BORN BEHIND BARS (Nancy Paulsen Books, Penguin) is a Junior Library Guild selection and just received its second starred review (Padma's 22nd starred review overall) from Booklist, in addition to its first starred review from Kirkus Reviews! You can read an excerpt and synopsis of it at: https://www.penguinrandomhouse.com/books/647196/born-behind-bars-by-padma-venkatraman/.