We'd like to thank Padma Venkatraman and Joy McCullough for this blog post, where they interview each other about why they write novels in verse and discuss some of the ways in which verse novels differ from prose novels. Thank you, Padma and Joy!
---
Padma: Joy, what first sparked your interest in writing poetry/verse novels?
Joy: I mentored for Pitch Wars for five years. During that time, writers submitted manuscripts to me and I would choose one to work with intensively. The very first year I was extremely drawn to Laura Shovan's verse novel (THE LAST FIFTH GRADE OF EMERSON ELEMENTARY, later published by Random House), though I told her very clearly that I knew nothing about poetry and could only really offer suggestions about character and story. There was so much about the form that resonated with me, and I began to read as much as I could. I rarely read stand-alone poetry, because I really connect with story and character, but verse novels offered me those things, plus the chance to play freely with language. I was hooked!
Padma: Can you recommend a few verse novels or poetry books that aren't yours (or mine) that you love?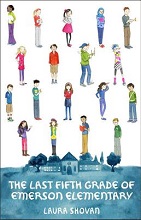 Joy: THE LAST FIFTH GRADE OF EMERSON ELEMENTARY! It's a marvelous intro to poetry for young readers, because Laura uses a bunch of different forms and includes exercises in the back so readers can try them out.
THE MOON WITHIN by Aida Salazar is a 2019 middle grade I absolutely loved about a girl whose mom wants to celebrate her first period with an ancestral Mexican moon ceremony. It's beautiful, lyrical verse and a super honest, unflinching coming-of-age story.
EMMY IN THE KEY OF CODE by Aimee Lucido is another 2019 middle grade I loved for its really inventive use of the verse form to weave in the language of both music and coding.
Padma: What are some key similarities/differences you see between verse novels and prose novels?
Joy: As I mentioned, I enjoy verse novels far more than stand-alone poetry because of how I need to connect to a character and a story when I'm reading. So certainly prose and verse novels have in common a narrative and character arc, stakes, etc. And much of the process of figuring out those things as a writer is similar whether I'm writing in verse or prose. The key difference is the way language is used, of course. The use of white space on the page. And verse is often more internal and dialed into emotions more than actions. (This is something I imagine my editor and I will discuss more at our retreat–during revisions on my second young adult book we found ourselves trying to work with verse that depicted, essentially, a quest with battle scenes, etc. Ack!)
Joy: Padma, since you write in both verse and prose, can you talk about how you know when a story is better suited to one or the other?
Padma: In a way, it's organic. My books appear as voices first, then become movies, then ghosts that haunt and possess me–but when they begin, the voice I hear speaks to me in verse or prose and I just know. That said, I do think that for a novel in verse there needs to be a real heartbeat–because it's like a string of emotional moments; I think for the most part, a fast, action-paced adventure that's heavier on what I call "external" plot is probably not well suited to verse.
Joy: Turning your question back on you: can you recommend a few verse novels or poetry books that you love?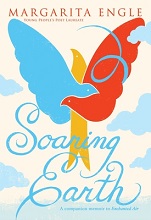 Padma: I fell in love with 3 verse memoirs that I read last year: Laurie Halse Anderson's SHOUT; Nikki Grimes's ORDINARY HAZARDS; and Margarita Engle's SOARING EARTH. Holly Thompson's THE LANGUAGE INSIDE has a poem in it that has the same title as the book, which is so innovative that I often use it when I teach. Jacqueline Woodson's EACH KINDNESS and THE OTHER SIDE and SHOW WAY are picture books, but they're also poetry. Finally, Janet Wong's SUITCASE FULL OF SEAWEED has so many writing prompts–that is just such a cool addition, in the latest edition of her book. As for sheer poetry, Marilyn Nelson's CARVER: A LIFE IN POEMS and also, THANK U (edited by Miranda Paul) – an ecclectic mix of poems. Well, I'll stop there.
Joy: You have a doctorate in oceanography! The differences between scientific and artistic fields seem fairly obvious; what is the overlap? How does your background as a scientist inform your creative writing?
Padma: Mathematicians speak of elegant proofs and equations; we speak of elegant sentences. Equations are mathematical sentences. The bond between mathematics and music is often discussed. Language, at its best, sings. To me, there's something beautiful about pattern, whether mathematical or linguistic. I love mathematics and language, both.