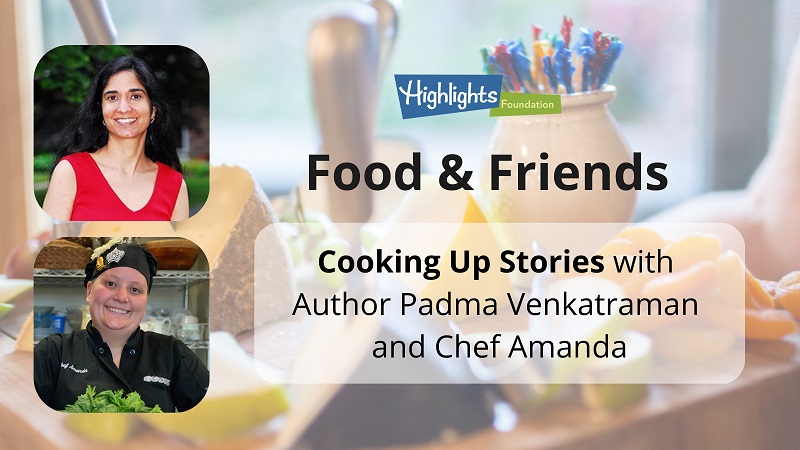 We love it when Chef Amanda and author Padma Venkatraman pair up to share a recipe and writing prompt for our Highlights Foundation family! Padma creates the prompts based on a book from one of our Highlights Foundation faculty, and Chef Amanda shares a recipe from the kitchen at the Barn.
MANGO, ABUELA, AND ME, written by Meg Medina and illustrated by Angela Dominguez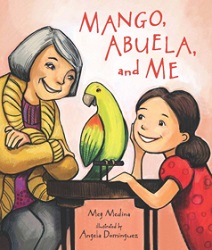 When her far-away grandma moves in, Mia and Abuela share a bedroom. Mia has to find a bridge between two languages so that she can learn the stories about her family, and Abuela can learn about Mia's art. MANGO, ABUELA AND ME weaves together a story of shared history, family, storytelling…and a parrot named Mango.
From the book:
Abuela, Mango, and I practice new words every day. Mi español gets faster and Abuela and Mango learn the days of the week, all the months of the year, and the names of coins.
"How did he learn all that?" Papi asks when we show him all that Mango can do. Abuela winks at me and gives Mango a piece of banana, peel and all.
"Practice," she says.
Writing Prompt
This month's Foodie Friday recipe is inspired by images from Angela Dominguez and words from Meg Medina found in their MANGO, ABUELA, AND ME.
When we look at the cover image, compared to an interior spread, consider the way that Angela has represented the facial expressions, specifically the eyes of Abuela.



Later in the story, when we first encounter Mango, Meg writes,
"Look!" I say. The window has become a jungle filled with birds! And right in the middle is a parrot starring at us with black-bean eyes.
Think of one of your characters. How would you sketch or describe that character's eyes? Maybe you would say "sky-blue" or "forest-green"? Maybe you would sketch in reaction to a feeling? Don't worry if your first attempt is cliché. Write that first idea, or sketch that first idea, then push beyond. Brainstorm, meditate, and reflect on your character's eyes, then describe in words or in sketch. Where can you include this in your current work-in-progress?
Recipe: Karen's Best Banana Bread
Preheat oven to 350 degrees .
Ingredients:
1 cup of butter or shortening
2 cups of sugar
4 eggs
2 1/2 cups of all purpose flour
2 teaspoons of baking soda
6 ripe smashed bananas
Directions:
Liberally grease two bread loaf pans.
Cream the shortening with sugar and eggs until smooth. Add in flour and baking soda and mix to combine. Mix in the smashed bananas till completely combined.
Divide batter and pour into the two loaf pans.
Bake at 350 degrees for one hour. Use a toothpick to check for doneness at 45 minutes. Baking times could vary depending on your oven. Allow to cool and remove from the pans and enjoy.
About the authors, illustrator — and chef!
Meg Medina is an award-winning author for children and teens. Her MERCI SUAREZ CHANGES GEARS won the Newbery Medal in 2019. She's received the Ezra Jack Keats New Writer Award, Pura Belpré awards and honors, and many other accolades. Meg will speak at the Highlights Foundation this June at GATHER: A COMMUNITY RETREAT FOR PUBLISHED AUTHORS AND ILLUSTRATORS. You can find out more about Meg and her work at https://megmedina.com/.
Author and Illustrator Angela Dominguez has created over a dozen books for children. She's illustrated award winning titles including MARIA HAD A LITTLE LLAMA and MANGO, ABUELA, AND ME. Her middle grade eco-fiction companion titles, STELLA DÍAZ HAS SOMETHING TO SAY and STELLA DIAZ NEVER GIVES UP, are enjoyed by readers around the world. Angela will be a special guest at this year's SCIENCE AND NATURE WRITING FOR KIDS AND TEENS. To learn more about Angela and her work, please visit https://www.angeladominguezbooks.com/.
Padma Venkatraman is the author of THE BRIDGE HOME which has garnered 8 stars, and has been honored as one of the best books of 2019 by Kirkus, NYPL, Chicago Library and others. THE BRIDGE HOME is also the recipient of a Walter Award, through the We Need Diverse Books organization, and a Golden Kite Award from SCBWI. THE BRIDGE HOME was the global read aloud book for 2019. Visit her at www.padmavenkatraman.com or follow her on twitter @padmatv or ig venkatraman.padma.
Amanda Richards is the executive chef at the Highlights Foundation. Although her scholastic background is in elementary education, she has always had a love of cooking and apprenticed under chef Marcia Dunsmore here at our Retreat Center. She's also a Food Network devotee and grew up watching Julia Child and others on PBS.