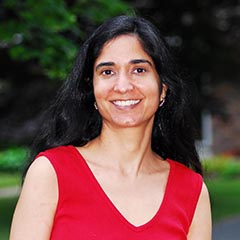 Author Padma Venkatraman was a guest faculty member at Gather: A Community Retreat for Published Authors and Illustrators.
Padma has lived in five countries, worked as chief scientist on oceanographic vessels, and even spent time scuba diving before becoming an author. Her most recent two novels, The Bridge Home and A Time to Dance each received five starred reviews.
As our guest on the blog today, Padma answered five questions about her creative process.
What are some discoveries you've made around your own artistic process?
Padma: Separate the writing self from the editing self. I've said this before and I'll say it ad nausem. Literally. Puke words on the page when you're feeling inspired. And on those other days when you don't have a wonderful creative urge, edit mercilessly. Clean up that verbal vomit with bleach.
Can you identify a time when you made a creative leap? What were the factors that contributed to that stretch?
Padma: When I was about eleven, I wrote a poem about a traveler who was faced with a choice to take one of two different paths. This poem was inspired by something literal–I was hiking in kodaikanal and we had to choose whether to go into a sort of meadow-like area downhill or uphill into this area that was forested and had a waterfall (or so we believed). I think we hiked up–but anyway, when we got back, I wrote a poem about it and it ended with "I had to go on, and on, on where my feet took me." I smile as I write this because I haven't thought of that poem in years.
Now I lived in India and I'd never heard of Robert Frost, but I was a child who thought a lot about symbols and the poem did express the symbolism of choice and I'd experienced a lot in life by then and was already wondering what choices I'd have to make in the future regarding my "studies"–writing or science. I shared this poem with my trusted English teacher, Dr. Chinna Oomen, who had studied in Massachusetts. She loved the poem and she said, "My girl! Tomorrow, I'm going to show you something special." Well, the next day, she showed me a book with Frost's poem. I was devastated. And for a while after that, I felt like I would never write again, because others had probably thought everything that was in my head and had set it down already, in a more polished form than I could ever achieve.
Then, luckily, my teacher, and my mother, and this wonderful person called Karuppaswamy Mudaliar, who was like the guardian angel of my childhood helped me realize that no one else could ever say things in my special way. That was a creative leap. And it made me realize that I didn't have to stop reading other people's words or be frightened of what others had said–I just needed to keep going, keep writing and keep reading and most of all keep believing in my unique way to express those experiences that in the end, all of us share as human beings. That gave me the power, the trust, the sense of both the individual and the universal, the humility and the confidence to know I just had to go on and on, on where my feet took me!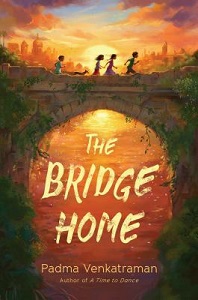 Does fear interact with your creativity? If so, is it friend or foe?
Padma: Fear, for me, is always a foe. I think if we are afraid to write something or say something, it's associated with "what will others think"–and that's destructive. For me, when I start to feel afraid of this, I need to do my best to reframe and rephrase this question and instead to ask, how can I pour my heart and soul into this work so it touches at least one other person, so it brings at least one small moment of positive change in the world, so it sparks at least one second of honest introspection in someone's soul. And/or, how do I edit his story so the ghost of the characters who possess me will be satisfied. Fear is a foe. For me, it's a matter of turning away from fear while also maybe reshaping that impulse that births this fear into something that begins to resemble empathy / consideration / integrity / sincerity.
Is there one thing you have to remind yourself over and over again? (Why do you suppose that is?)
Padma: Honestly, yes. I need to remind myself every day that my prime motivation as a writer is the hope that my words will increase the compassion in the world. In a way, it's like my prayer, and it's what keeps me going. Most of the time, it's not hard to keep going, but sometimes, in all honesty, it is a bit hard, and those days I need to remind myself more than ever of the young people I write for who need to be far more empathetic than previous generations, if humanity as a whole is ever to get to the next level–not technologically, but in terms of coming together as an accepting global community.
Why is it hard? Well, a lot of authors don't admit it, but the reason we want our names beneath our titles is that in some way our egos enter into the arena. For the most part, with all my books and most especially with The Bridge Home, I feel like the books aren't mine, that they are more than mine, that in the end they are stories that my hand happened to set down. Yet, I do have a personal stake in my work and while I am deeply grateful for each starred review I've received and I am well aware that I have had the gift of receiving more "starred" reviews than so many other authors, there are several other ways to measure success which I haven't yet attained. So if I start to think about all I don't yet have, I could easily get worked up and unhappy and spiral down into a state of depression–and I need to do all I can to steer away from that. I know I'm not alone in that.
I often feel deeply and immensely humbled by how my work, especially The Bridge Home, has changed lives; I feel so thrilled it's a global read aloud–which is one of the greatest honors–and even if my name weren't below the title I would be thrilled kids around the world may soon be reading it; but in the end, I admit I am thrilled my name is on that book. If an author says they don't care about recognition, it's a bit of a lie. If we don't care at all about ourselves, we should write anonymously and we should give away every cent we receive through our writing.
I think, for me, it's mighty important to honestly admit there's a self-centered component to this and to try my best to consciously and subconsciously, through yoga and mediation and this little mindful prayer, remind myself of the whole huge world out there in which the space and time I am present is infinitesimally small. When I think of the sheer magnitude of the universe, I realize how incredibly small I am, and that always brings me a sense of joy.
Our workshop is all about taking our art to new places. In what way would you like to grow as a writer/artist? What would constitute a breakthrough for you?
Padma: Two ways I want to stretch my wings. First, I have about a billion (yes, really–okay not really, so maybe just about 20) completed picture book drafts on topics that are decidedly publication worthy–many of them nonfiction topics. I'd like to hone and polish them and see them in print and out in the world, where these stories need to be, especially because I think with my background, I can write about science/mathematics far more accurately than many others and I can write with a greater degree of comfort as well. Second, at the HWK in Germany, where I had the honor to receive a fellowship as writer-in-residence, I began to work on a novel that will bring my love and rather extensive knowledge of science and mathematics together with my love of storytelling–and to bring those two worlds of mine that I've hitherto held separate will be an immense breakthrough.