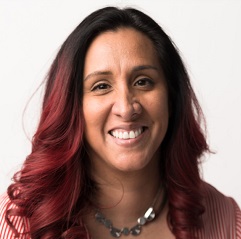 Author Illustrator Juana Martinez-Neal was a guest faculty member at Gather: A Community Retreat for Published Authors and Illustrators.
 Alma and How She Got Her Name, the first picture book both written and illustrated by Juana (acquired in a seven-house auction!), was awarded a 2019 Caldecott Honor, Ezra Jack Keats New Writer Honor, 2019 NCTE Charlotte Huck Award Recommended Title, and was named a Best Book of 2018 by School Library Journal, ALA Booklist, New York Public Library. Juana states, The essence of ALMA, which has autobiographical elements, is "we are everyone that came before us, and at the same time, we are uniquely ourselves."
Juana is also winner of the 2018 Pura Belpré Medal for Illustration for La Princesa and the Pea, written by Susan M. Elya.  Other titles (among many) include Babymoon written by Hayley Barrett and Fry Bread: A Native American Family Story written by Kevin Noble Maillard (coming in October 2019)  Additionally, she illustrates for Disney, Nestle Hispanic, Babybug, and Ladybug magazine.
To see more about Juana and her illustrative style, check out this interview with Kathy Temean.
As our guest on the blog today, Juana answered five questions about her creative process.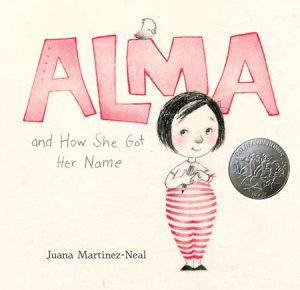 What are some discoveries you've made around your own artistic process?
Juana: The most important discovery I've made is that I have to let the first emotions I feel about a story determine how I make a book. Then, throughout the process of book making, I have to go back to that initial raw feeling. I have to remind myself of the direction I have chosen for the book.
My emotions help to determine the media and surfaces I use to paint, as well as the colors and the different characters. If my job is done right, I communicate these emotions to the readers when they experience the book.
Can you identify a time when you made a creative leap? What were the factors that contributed to that stretch?
Juana: I remember a time some years ago, when I was "stuck". I couldn't draw or paint at all. It was painful!
I had been looking at the work of too many artists and perhaps was bombarded with too much information. At that time, I was trying to find my way of painting and illustrating. I was switching media, too. It was a vulnerable time when I was trying to find my own way of expression and seeing so much brilliant work was detrimental to my growth.
Finally, I figured out that I had to stop filling the cup. The cup was filled to the brim. It was time to focus on finding my own way of telling a story by doing the work.
Does fear interact with your creativity?  If so, is it friend or foe?
Juana: Fear is part of my creative process — not clear yet if it's a friend or foe.
Every time I start a new book, I feel as if I've forgotten everything about book making. Starting takes time as I find the right style for the story I'm working on. Slowly, I gather energy to face my fears to start sketches, revisions, and painting. This sounds very simple in concept but it's a process that times time and it's part of my creative process — at least for now. Yet, I believe this way of creating (hopefully) helps keep my art feeling fresh with each new book I make.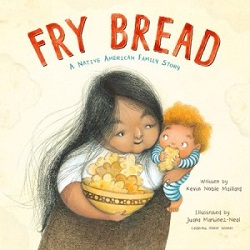 Is there one thing you have to remind yourself over and over again? (Why do you suppose that is?)
Juana: Yes, that I can do this! I can make this book. I have everything I need to paint these pieces. I have the words to write this manuscript. Most of us worry about our work. It is a good quality to keep us motivated. If we really know everything there is to know about our work, then why are we doing it? Half of the fun of book making is the search for something new!
Our workshop is all about taking our art to new places. In what way would you like to grow as a writer/artist?  What would constitute a breakthrough for you?
Juana: I love to try different media and techniques. It inspires me to see what other people are using and how they are using them. I feel it brings a world of possibilities for new work. I'd also love to see how other participants approach their creative writing process. What this looks like for them, how I can incorporate that into my own writing process.