Thank you to all of the faculty and students who spent part of their September with us!
The Journey: A Crash Course in How to Write Books for Children
Back for the third consecutive year, Carmen Oliver and Don Tate and their special guests Matthew Winner, James Ransome, Lesa Cline-Ransome and Kelly Light shared many insights with the group. Everyone took pages of notes, and we expect we'll be cheering them on as they move further down the path to publication!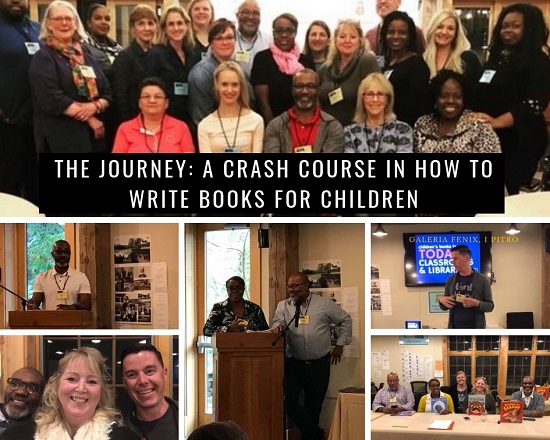 ---
Getting to Know Your Picture Book With Debbie Ridpath Ohi
It appears that the always-energetic Debbie, her students, and her special guests Heidi Stemple, Lisa Cinelli, Rubin Pfeffer, Jake Bazel and Kelly Light had even more fun than we thought they would. Plus: they were the first group to have their photo taken by drone!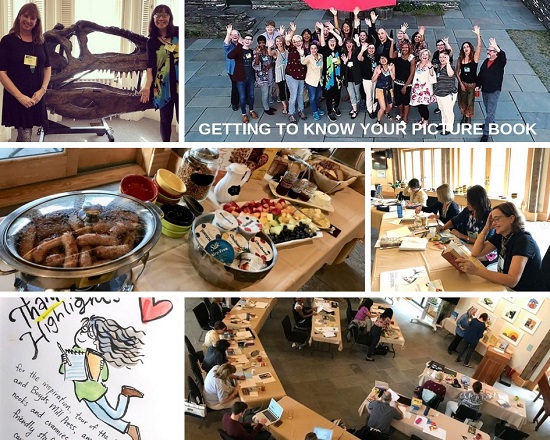 ---
Taking Your Writing and Art to New Places:
Published Authors and Illustrators at Work
""Everyone's presentations and the week as a whole was just so beautifully crafted and I enjoyed every second of it. I came in just hoping to have time to work on a few personal projects and I'm leaving with soooo much more–fixing past projects, so many ideas for new projects and just a deeper understand of what I want to create!""

---
DIY Repair Kit for Writers: Get Your Fixer-Upper Ready to Sell
Susan Campbell Bartoletti gets our faculty appreciation award for her "the show must go on" attitude after suffering a podium accident…she and co-faculty Mitali Perkins are a great team! Visiting editor Kat Brzozowski was fascinated by the bottomless ice cream freezer. Thanks to Mindy Yuksel for sharing great pictures with us!