Authors An Na and Jennifer Jacobson had a great talk about the creative process and how fear can help you push harder.  Enjoy their conversation here: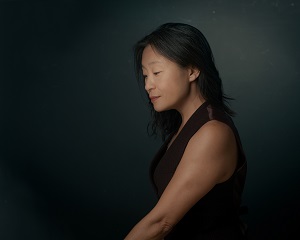 Jennifer: Award-winning YA author, An Na's first book, A Step from Heaven won many awards: the Michael L. Printz Award, International Reading Association Award, National Book Award Finalist, ALA Best Books for Young Adults, and New York Times Book Review Notable. Her novels Wait for Me and The Fold followed, as well as her newest book The Place Between Breaths, which has been praised highly in multiple starred reviews. When she is not teaching for the Vermont College MFA in children's literature program Na can be found at Banchan, the restaurant she opened for her Mom in Montpelier, VT.
Jennifer: In your newest book The Place Between Breaths, time, point of view, and perspectives shift unpredictably, providing the reader with a heightened experience of uncertainty.    Can you tell us more about the structural decisions and at what stage of the writing process you made them?
Na: I had a vision of what I wanted for the novel structure as soon as I knew I wanted to write about genetics. It would be a three-part strand all weaving together like a DNA strand. I wanted to braid time so that all that we assumed about the past, present and future became confused and cyclical. I wanted to marry the idea of time and genetics, while examining the notion of agency and what that means when one does not have the ability to control one's mind.
Jennifer: I so admire the risks you took in the writing this story, Na, and I'm guessing that those risks were occasionally accompanied by fear. How would you describe your relationship to fear?  How does it help or hinder your creative process? (And if it hinders, what do you do to get past it?)
Na: Fear is what keeps me from sitting at the desk and doing the work. Failure is always right there. Maybe no one will get it? I have to talk myself out of being afraid, but at the same time, the story always presents itself in the way it needs to and we are just ready or not to accept it. I could not imagine a different way for me to write PLACE even though making it more traditional and linear in structure might have helped the reader connect more to Grace's plight. But that was not the way the story wanted to be told and even when I tried to simplify, I just couldn't get the story to work. I guess my way of getting around fear is to give myself no other options. And honestly, if you are not afraid then are you pushing yourself to explore deeper, more honestly and in new ways? Creativity is about being vulnerable and that is scary!
Jennifer: This novel is hauntingly poetic.  Was facility with language one of your first strengths as a writer, or is something that you've developed over time?  Are there specific ways in which you engage/experiment/play with language? (I would love to include a picture of an edit from less poetic to more if such an artifact exists!)
Na: I do really work on pushing language and images. I try and see things three dimensionally and then choose a surprising angle. Make a noun a verb, play with POV, mine metaphors, repeat imagery in novel ways. I look at things that I can do within the story to create emotion in the reader and startling language is a great way to engage the reader to puzzle through an idea.
Jennifer: When involved in the creative process, is there one thing that you have to remind yourself over and over again?
Na: To relax. As writers we can try and force something to work maybe because it was the premise of the story or it's a cool concept or the character is awesome, but if it is not in service to the story then it needs to go. We have to be okay throwing away work, characters, ideas, chapters, whatever it might be that is not true to you as the writer or to creating the best story possible. We have to trust ourselves and trust that we know what we are doing. Don't force, relax into what it needs to be.
Jennifer: In what way would you like to grow as a writer?  What would constitute a breakthrough for you?
Na: I would love to write outside my genre. I would love to write middle grade or a picture book and that would be a fantastic breakthrough for me.