Author Jennifer Jacobson talked with Ruth Behar about the creative process and writing in multiple genres. Here's their conversation: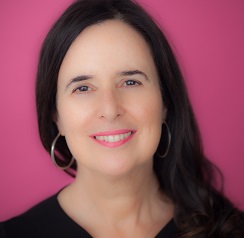 Jennifer: Ruth Behar is this year's winner of the prestigious Pura Belpré Author Award for her middle grade novel, Lucky Broken Girl. In this heartrending story–based on her own childhood in the 1960s–Ruthie, a young Cuban-Jewish immigrant girl, is adjusting to her new life in New York City when her American dream is suddenly derailed. In the story, as in life, Ruth was confined to a body cast and bedridden for an interminable recovery period. It was during that time, that Ruth discovered a deep well of creativity and compassion.
Here is my interview with Ruth.
Jennifer: You write poetry, essays, memoir, nonfiction and fiction. Do you find that your creative process is different for each of these genres? Do the genres ever blur? And if so, can you tell us something about their intersection?
Ruth: I think there is a different creative process for each genre, though genres often blur. I actually teach a course called "Blurred Genres" where we read autobiography, ethnography, and fiction, and try to understand the unique expressive powers of each genre while exploring texts that are blurred and can't be easily classified. I've spent a long time in the academic world, where to be accepted I had to write a certain kind of nonfiction I found stultifying. To keep my soul alive, I inserted stories and poetic reflection around the edges of that writing, blurring genres, and writing in a way that felt true to me and that honored the people whose lives I was trying to represent. At the same time, I compartmentalized myself as a writer; I wrote poems, fiction, and memoir that stood apart from my academic writing. I discovered the possibilities of each genre–the brevity and precision of poetry; the freedom to invent alternative realities that is at the heart of fiction; delving into family secrets in a memoir. Each genre taught me skills that became part of my writer's toolbox. Ultimately, I realized that my creative process is not so different for each of these genres. They all begin with a mix of hope and fear–I have so much to say, but can I say anything worthwhile?
Jennifer: In 1988, you won a MacArthur Fellowship (otherwise known as the genius award). Did this fellowship help or hinder your creativity? In what ways?
Ruth: When I received the MacArthur fellowship, a friend said to me, "You've been anointed." I had to look up the word, and then I understood: I'd been given a huge stamp of approval to do the work I wanted to do. It was a blessing in so many ways. I was thirty-one when I received it and starting out as an anthropologist and a writer. I was the breadwinner in our little family, with a young son and my husband still writing his dissertation, so the financial support couldn't have come at a better moment. I was grateful for the gift of time, which made it possible for me to travel to Mexico and write about my experiences in a deeply personal, lacerating way that I might not have dared to attempt otherwise. I began to reconnect with Cuba, my birthplace, and became open to life-changing encounters that nourished me spiritually and artistically. I lived with a suitcase by the door and I loved it. As a writer, I became braver. I took more risks. I experimented with prose poetry, inspired by the Cuban poet Dulce María Loynaz, writing in Spanish and English. I inserted very personal stories, about imposter syndrome, about my marriage, into my academic writing. I gave myself permission to fail. All that helped my creativity to flourish.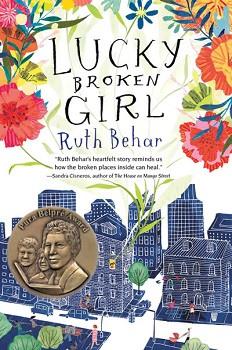 Jennifer: Lucky Broken Girl is your first book for children. Did you experience any creative breakthroughs or new knowledge that you will carry into future work?
Ruth: Writing for children gave me the freedom to explore feelings in a more intense way than I had before. I don't think I'd ever explored forgiveness and love with such clarity. Looking at the world from a child's perspective, with that mix of innocence and emotional wisdom that children have, was a breakthrough. I am carrying that knowledge into my new writing.
Jennifer: Music is a big part of your life. Do you consciously think of connections between music and language when writing? How do these two passions interact?
Ruth: I have loved music since I was young. I grew up listening to Cuban music–boleros and cha-cha-cha. I wanted to play the piano but my parents said I should choose a more portable instrument in case we had to immigrate again. They suggested the guitar or the accordion. I chose the guitar. I used to play flamenco music and songs by Joni Mitchell. I also played violin in high school. When I went to graduate school in anthropology, I was overwhelmed by all the reading I had to do and I stopped playing music, but I listened to classical music and jazz and Cuban rhythms. I felt so proud that my brother became a jazz musician, studying the bass and later becoming a music teacher. Many years later, I took up salsa dancing and tango, which let me return to my passion for music and express my feelings without having to speak.
Music has that amazing ability to be understood across borders and no words need to be exchanged. But much as I adore music, when I write I need to sit very still and be silent to hear the voices of my characters. I do think a lot about the musicality of speech. I imagine certain characters speaking in staccato and others in legato. And in Lucky Broken Girl, music plays an important healing role. It is through a tango dance that my protagonist, Ruthie, envisions feeling whole again and unafraid to move about in the world. Writing and music transport you to another place or time or a different mood. They take you out of your body and into another reality. They are powerful forms of communication.
Jennifer: Your writing for adults and your writing for children examine (is that the right word?) vulnerability. Can you talk about your understanding of vulnerability and how it enhances your art?
Ruth: In all my writing I am drawn to vulnerability, what I think of as the tender spots where the hurt resides and through which we learn empathy for the suffering of others. In Lucky Broken Girl, it is my protagonist's experience of vulnerability – her inability to move, her extreme dependence on others to meet her most basic needs, her nakedness covered only by a bed sheet, her uncertainty about the future – that teaches her deep truths about herself and others. It is when we go to the broken places in ourselves that we learn how to be whole, or perhaps we learn how to live with our brokenness and accept it as integral to our humanity. If understanding what it means to be human is the reason for all art, then it seems to me that paying attention to vulnerability, to our brokenness, has to be a central part of my work.