Author Jennifer Jacobson interviewed author/illustrator Melissa Sweet about her creative process, and we're sharing their wonderful conversation here.
Jennifer: I met with award-winning author Melissa Sweet in her studio.  Books she's written include Carmine: A Little More Red, a New York Times Best Illustrated book; Balloons Over Broadway: The True Story of the Puppeteer of Macy's Parade, a Sibert Award winner (for informational books) and a NCTE Orbis Pictus winner (for nonfiction).  Her most recent book, Some Writer! The Story of E. B. White, was a New York Times Best Seller and garnered an NCTE Orbis Pictus award.  Among the many books Melissa has illustrated are three books by author Jen Bryant: A River of Words: The Story of William Carlos Williams and The Right Word: Roget and His Thesaurus, both garnered Caldecott Honors. A Splash of Red: The Art of Horace Pippin, was a Sibert Award and Orbis Pictus Award winner.
Jennifer: When I visited your studio, you were in the process of creating illustrations for a new book by Kwame Alexander.  It was thrilling to witness your process for this particular book, and surprising to hear that you didn't know if you could accept this project.  Can you tell us a bit about your thinking and what made you finally agree to do it?
Melissa: The first time I read this text, (which is a short poem) I read it as something that would require me to illustrate the imagery in a literal way, but I couldn't quite see how I would render it, so I declined.  Long story short, a number of months later the publisher asked me if I would reconsider. We talked about the book as a series of paintings — my work would be to interpret the text, not "illustrate" it. That was a challenge I wanted to take on.
Jennifer: Next to your neon paints was a very old and newly torn apart copy of the book Bambi.   We discovered that when working on a project, we both love to find another text that can help us further explore and layer our own work.  I call my companion books swimming buddies, you call yours anchor texts.  Can you tell us more about the use of Bambi in your abstract work, and how serendipitous connections were made?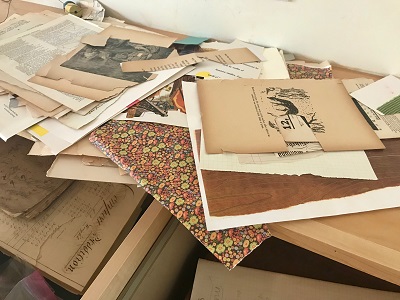 Melissa: For a number of years, I've been using old books in my art. Primarily it's because the color and texture of the papers, the covers and the endpapers are all excellent collage materials. I happened to have an old copy of Bambi, and since nothing is precious in my studio, I started to use the pages in my collages. When I was nearly done with the book, I found a poem by Nikki Giovanni that referenced fawns and poetry, and it was as if that was confirmation that my intuition was right on track. Or else, I was looking for confirmation that using Bambi was a good decision, and I happened to find it!
Jennifer: Another thing we share is our interest in the principles of creativity presented in The Geography of Genius by Eric Weiner.  Weiner writes that we are at our most creative when we have something to push against.  I know you hit obstacles on the path to finding the perfect design for this book.  Please share the way in which these obstacles led to better — and more creative — outcomes.
Melissa: To my mind, each book requires its own design solution. There's no one formula for illustrating a text, and each text feels like a new artistic beginning. This book had a lot of iterations. I struggled with deciding whether to take a character through the book, finding an imagined setting, or should this book be a journey, or quest, or simply a sensory interpretation?
I wasn't certain which way to go.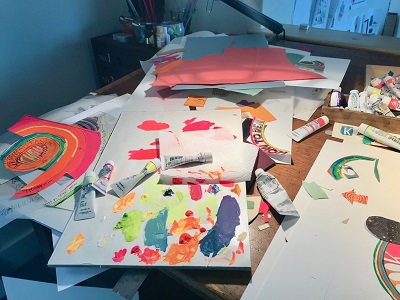 However, I will do many dummies, sketches and sample art until I get to the moment when I've exhausted so many possibilities and attempts, that taking a risk is all there is left to do. You'd think I'd get there quicker with each project, but part of getting there is working through it. This doesn't mean that the art I made is so different that anyone who knows my art won't recognize it as mine, but in my process, I'm personally charting new territory.
In this new book, part of the fun started when I began using neon colors, keeping each page fresh and as simple as I'm capable of. (Because my work is fairly layered with imagery, "simple" is a relative word.) Creativity gets most interesting when we create parameters, then experiment and play within those boundaries.
Jennifer: Do you ever get impatient with the discovery phase?  What helps you to trust this stage?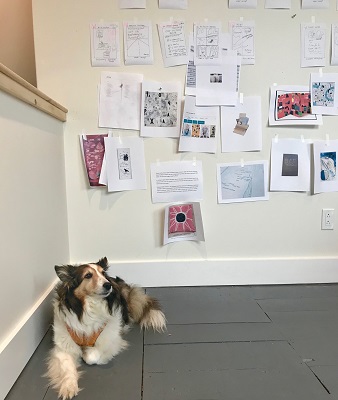 Melissa: I do a lot of hand-wringing at the beginning, but the artist Harold Garde said that "art comes from art" and I agree with him. Looking at art in books, museums, Pinterest, anywhere, may look like procrastination, but it's essential to the process. Taking time to find imagery, a palette or line work that speaks to me helps me recharge the battery. I don't get impatient with the discovery stage. I trust that I will get there, but the only way to do that is by working in the studio. It can look very unglamorous, the day after day of trying to figure out how to render a book, but eventually something makes me curious and I'm on my way. I also trust that all the work that goes into a book is absolutely worth it. It couldn't have happened any other way. The best part of being an author and illustrator is the process–creating something from an idea to a final book. And that book always leads to the next idea.