The month of May was an exciting one at the Highlights Foundation, with wicked weather, all-star faculty and good-sport students. Here's a recap in case you are watching from afar:
Crafting Successful Author Visits
Our group of talented authors & illustrators worked hard to polish up their presentations and then bravely made some "live" school visits! Debut author Colleen Kong-Savage was thrilled: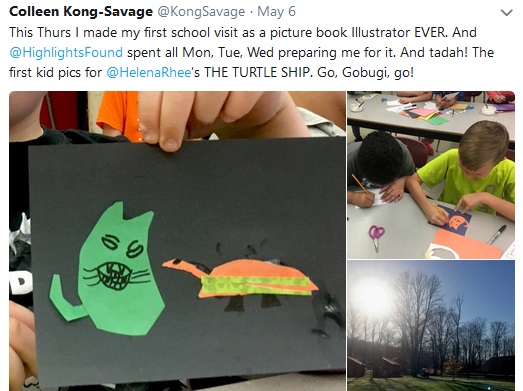 Eastern Pennsylvania Chapter of SCBWI
We loved hosting the Eastern PA SCBWI for the 3rd year in a row!
Because this year's theme was "May the Force Be With You," chef Amanda and her crew came up with these "Wookie Cookies!"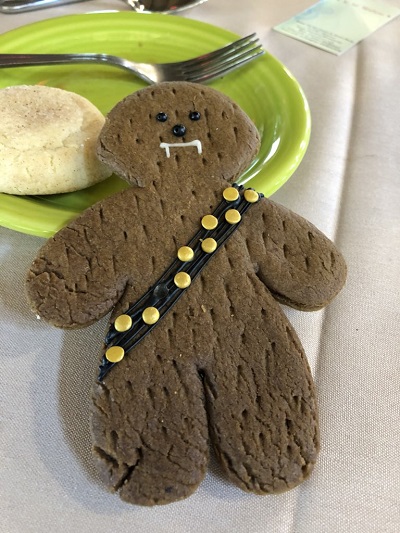 Writing & Revising Narrative Nonfiction
One attendee learned "the importance of writing in scenes, not letting my research show, keeping the "heart" front and center." Faculty Elizabeth Partridge thought that editor Catherine Frank's presentation was "irreplaceable."
Attendee Megan Hoyt said: "I have learned so much this week. I cannot thank you all enough for having me! Now to dig in and implement these changes to my narrative nonfiction project! Woohoo!" Good luck, Megan. We hope to read books by ALL of you soon.
Filling the Writer's Toolbox
During Emma Dryden's wonderful workshop, the campus was visited by a tornado! Everyone was so brave and now they have a story to tell. Emma wrote on Facebook: "Teaching at Highlights and this afternoon a tornado ripped through the area. 70mph winds, trees uprooted, cars smashed. All attendees and staff safe and sound in the Barn–and tomorrow morning I will lead a session in intensive revision. Tornados ripping through our manuscripts to create new landscapes and new paths."
One attendee said: "I learned a lot about the revision process. I learned about sensitivity readers and got the names of YA and craft books that will help me with my manuscript. I learned more about how the publishing industry works, but for me, the most important learning was very personal. The workshop gave me the space and context to learn/affirm why I'm writing in the first place, and why I'm writing the story I am. It was a beautiful opportunity to learn to trust my process."
Writing the Unreal
Our Whole Novel Workshop in fantasy & speculative fiction was also taking place when the tornado visited. For those who'd like a visual, faculty Laura Ruby posted this on Twitter: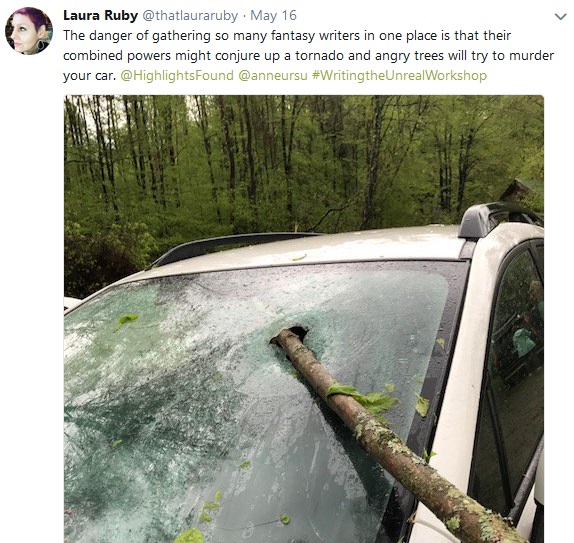 Retell, Revisit, Reimagine: Writing Fresh Fairy Tales and Folklore for Older Readers
So, even though the tornado took out all power and we were running the campus on generators, the wonderful leaders of this workshop, Anna-Marie McLemore and Julie Dao, showed up in magical headgear: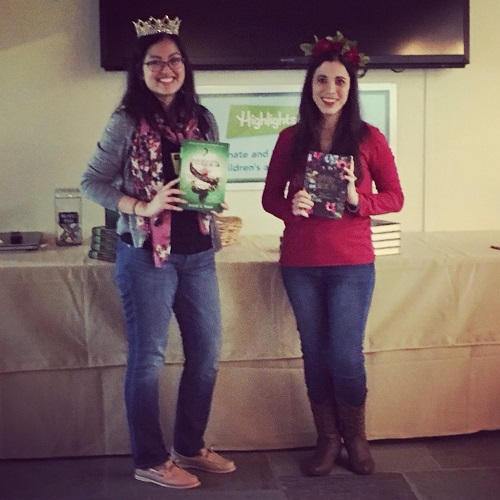 There was a wonderful, candlelit session on women in fairy tales: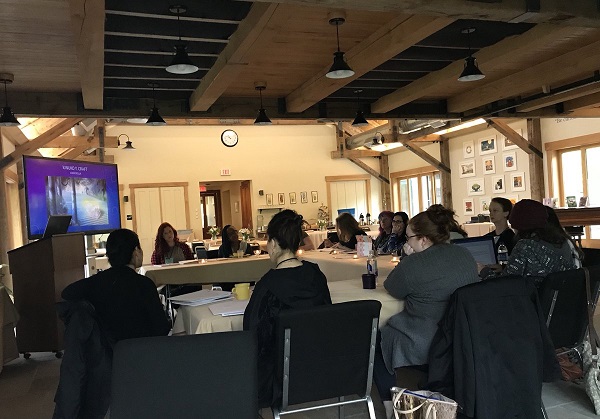 And everyone took some pixie dust home!