I aim to begin each program year having read most (if not all) of our faculty's new releases. I try my best to go in order so that I will have spring books read in time for spring workshops and fall for fall, but sometimes a book jumps the line. And sometimes my TBR pile topples over onto my bed pillow. And sometimes I read two books back to back that complement each other so well I can hardly believe that the authors of said books will set foot on our property within the same program year.
Take, for example, my recent email to faculty member Julie Dao:
On Monday, January 15, 2018, 1:13:43 PM EST, Alison Myers <alisongreenmyers> wrote:

Julie, Julie, Julie, Julie,

I literally can't stop recommending the book. I should just buy one of those T-shirt slingshot things and fill it with your book and pop it off into every room I enter.

Can I just tell you that I read WILD BEAUTY and FOTL back to back and I can't imagine a better dream team for this YA workshop…

XOXOXOXO,

A
Wild Beauty (Anna-Marie McLemore) and Forest of a Thousand Lanterns (Julie Dao) are stunning 2017 releases with lush settings and strong, multi-dimensional female characters. We are pleased to host Anna-Marie and Julie on the blog today and in person during their retreat, Retell, Revisit, Reimagine: Writing Fresh Fairy Tales and Folklore for Older Readers.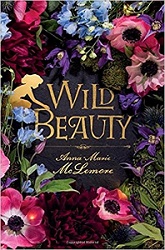 (Also, does anyone know where I can get one of those T-shirt slingshots? No reason…)
"[A] vibrant and magical tale that readers will not easily forget…This fantastical tale will delight her fans and entice a new audience."—School Library Journal, starred review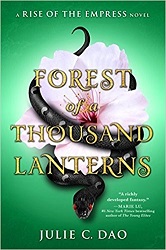 "A masterful reimagining of the early life of Snow White's Evil Queen. Subverting the all-too-white world of fairy tales, this novel will trap readers in a lush, dangerously dark, and often beautiful world from which they will want no escape. Xifeng is…richly drawn, complicated, and, at times, vulnerable; her relentless pursuit of power a welcome contrast to princesses of the past who seldom had the confidence or strength to determine their own destinies."—Booklist, starred review
Alison: Hello, Anna-Marie and Julie! Welcome to the blog. We are thrilled to host you today. Please let our readers know what stories you have in the works. What can we expect to see on the shelves from you next?
Anna-Marie McLemore: Thanks for having us, Alison! Thrilled to be here, and to be at Highlights in May! My October 2018 release is Blanca & Roja, a magical realism reimagining of "Snow-White & Rose-Red" meets "Swan Lake." It's all about Latina sisters, murderous swans, queer identity, and the impact that the stories we're told have on who we become. I also have a couple of secret projects in the works, and hopefully I'll get to share more about those soon!
Julie Dao: I am so excited to be back on the Highlights campus! Thank you for having me! Kingdom of the Blazing Phoenix comes out October 23, 2018! I think of it as both a sequel and a companion novel to Forest of a Thousand Lanterns, since you can read either one on its own, but together they give you both the story of the Evil Queen and the story of Snow White! In FOTL, we saw Xifeng rise to claim the throne of Feng Lu as Empress; in KINGDOM, which takes place almost 20 years later, we see Princess Jade, Xifeng's exiled stepdaughter, struggle to come into her own and reclaim her empire. I also have another project that will be on the shelves in 2019, and I hope to share more information about that later this year!
Alison: Watch out, October 2018! Can't wait to read both. Fairy tales are the foundation of both of your October releases (and prior publications). Fairy tales originated from a place of social and moral teachings. In your retellings, do you keep to these teachings? What social commentary do fairy tales have in today's literature?
Julie: I intended FOTL to be blatantly feminist. So many of the original fairy tales revere and uphold femininity only in its young, beautiful form, basically implying that a woman's only identity is in her age and her looks. Older female characters, like stepmothers, are portrayed as "evil" or "witches" for seeking to hold on to some semblance of that identity–wanting to be beautiful again, for example, or being jealous of girls who have taken their place, or struggling to find their place in the world after being told they are no longer worthy. I wanted to explore this notion of beauty as power and self-worth: what does it mean when a woman sees herself as being defined by her beauty, when that is her only ticket to controlling her own destiny in a world where men dictate what happens to her?
In my duology, I also explore different types of female strength. Many stories portray a "strong woman" as only physically strong, able-bodied, and good with a sword (traditionally masculine characteristics), which is often great to see, but I wanted to write characters who were strong in their resilience, their self-love and confidence, their purpose and determination, and their love and protection for others.
Anna-Marie: When I reimagine a fairy tale, I like to have those morals in mind, but often I'm pushing against them. In Blana & Roja, I got to keep the strong sister bond you see in "Snow-White & Rose-Red." But in placing two Latina sisters at the heart of the retelling, it gave me a chance to look at colorism, beauty standards, and expectations of women within the Latinx community. Bringing in elements of "Swan Lake" — the archetypes of one swan, pure and virtuous, and the other, seductive and deceitful–let me introduce the thread of how we so frequently become cast in roles that don't truly reflect who we are.
Alison: Speaking of retellings, do you have a "wish list" of fairy tales that you would like to see reimagined? And how do you suggest a writer keep these stories (which are told again and again) modern or fresh?
Anna-Marie: I would love to see retellings that incorporate folklore from different traditions. Part of what I love about writing retellings is getting to draw in Latinx stories, like I got to in Blanca & Roja. Even if you're writing fiction, bringing your own experiences and point of view to a retelling is part of what keeps it new.
Julie: Many folktales and fairy tales are found across the world in numerous different cultures, which I think is very interesting. It goes to show that even though cultures are separate and distinct, they are not isolated, and over time the art and the tradition of storytelling has crossed borders. I'd love to see cultural variations on well-known tales. But that being said, I am a huge fairy tale fan and I think that any retelling done well–in that it holds the original flavor yet has a freshness of its own–is right up my alley! It's important to keep the original themes of a fairy tale to ground the reader and make it seem familiar, and then add in new elements (whether it's setting, characters, or surprising twists on the plot) to make it a unique new story.
Alison: All this talk of fairy tales familiar, yet fresh makes me wonder about your course at the Foundation. What should writers attending your Retell, Revisit, Reimagine: Writing Fresh Fairy Tales and Folklore for Older Readers expect?
Julie: Anna-Marie and I hope that workshop attendees will go home feeling confident in their writing and excited to bring their own vision to fairy tales and folklore! I'd love for the workshop to be a welcoming, comfortable environment where writers feel free to share their work and help and encourage others, and maybe take home a few helpful pointers on what has worked for Anna-Marie and me and what we have found to be helpful in writing our own retellings!
Anna-Marie: I'm so excited to be teaching this workshop with Julie! We'll not only be helping writers at the workshop make their retellings fresh and innovative; we'll also be focusing on how to choose the fairy tales and folklore that speak most to you, how to interpret fairy tales in ways that will resonate [with] readers, and how to create a retelling that reflects your point of view as an artist.
— Interview by Alison Green Myers