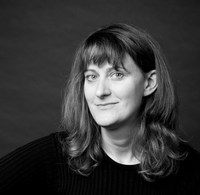 We'd like to thank Jame Richards for this blog post!
At dinner in the Barn this March, I mentioned to Alison Green Myers that this was my second visit to Highlights, having attended the Writing for the Educational Market workshop in June. I was a little surprised to hear myself saying, "And of course that's how I got here now"–"here now" being the residency with Laurie Halse Anderson. Why did I say that? What did I mean by that? I could see the writerly glint in her eyes–there must be a story there. But first…
"Tell me about the Ed Market workshop," she said.
"It was fantastic," I said. "I never had so much fun learning. So much information and yet we laughed all day. We wrote samples. Jan and Paula critiqued our resumes."
"And did you get job leads from it?"
I nodded. "I started some contracts soon after. Literature study guides."
Ok, so as you can see, a normal conversation…but the question was still hanging in the air…how did all that lead to getting here now? Eventually we circled back to it. I wish the question had a quick tidy answer, but I'll paraphrase the rambling response Alison patiently nodded through.
1. First and foremost, my attraction to Highlights overlaps with a slow-burning longing for a writing cabin, every reclusive writer's dream. Silence. Solitude. Heaping gobs of time. Even better if delicious food magically appears every few hours.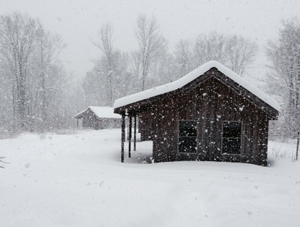 I loved everything about the Ed Market workshop, I told Alison, but it was bittersweet leaving that cabin every morning. Here was an empty desk begging me to take out my novel. Big windows overlooking the forest. Bird song. A glider on the porch. I caught glimpses of my cabin from the Barn during the day. I'll be back soon, I thought. Wait for me. Then, when it was time to leave, again: I'll be back soon, next time with my novel.
Since June, my cabin fantasy had crystallized to include watching the snowfall while I wrote. Would I have a manuscript well in hand by winter?
2. The other bridge between my two visits has to do with the researching and writing itself. Did you know that young Alexandre Dumas crossed paths with Napoleon on his way to Waterloo? And again on the way back! Did you know Nathaniel Hawthorne was so handsome the awestruck minister officiating at his wedding couldn't get through the ceremony? Suddenly, with my ed market contracts, I couldn't read enough about the lives of authors. Perhaps some biographies would be in my future. Maybe even in verse like Carver by Marilyn Nelson, an enduring favorite.
And I was writing long hours every day–once my contracts ended, I kept the momentum going on my own projects. Spurred by the image of Dumas tirelessly scratching out his immense serialized novels with a matter of mere hours between his pen and the typesetter, I soon finished a draft of a contemporary YA for the educational market, while adding dozens of pages to my YA trade novel. All this material to work with before the next round of contracts, the time had come to take my manuscript to the mountains to watch the snowfall.
Alison checked the forecast and we crossed our fingers for snow even though it was unseasonably warm that first evening. The snow finally did its thing on the very last day–such is the magic of Highlights.
Already, again, the cabins are calling me. The empty desk. The whisper of the forest. A friendly beagle to join me on my walks. You know, autumn is beautiful in the Northeast. The red and gold leaves, the crisp air, apple desserts…
I'll be back soon. Wait for me.