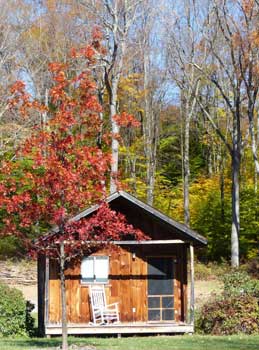 Dale Cross Purvis attended last month's residency with artists Jerry and Eileen Spinelli. On the final evening of the program, Dale read her poem, If Once. Inspired by Rachel Field's poem of the same title and Dale's time in her cabin at Boyds Mills, the poem is reproduced below. We hope all who come to work and play at the Foundation are equally inspired.
If Once
after a poem by Rachel Field
by Dale Cross Purvis
If once you write in a cabin,
You'll never be quite the same.
Your blue will be brighter and bluer,
Though it goes by the same old name.
And the white of the clouds that drift over the hills
And the white of the sun-dappled stream
That sparkles through all of the stories you tell
Will be whiter than ever you've seen.
You may walk through the town in December,
When the grey and frozen winds blow,
But you'll see the gold of the setting sun,
The gold of the lantern glow.
"My dear," friends will ask, "are you ailing?"
You will sigh. You will try to explain
That once you wrote in a cabin
And you'll never be quite the same.