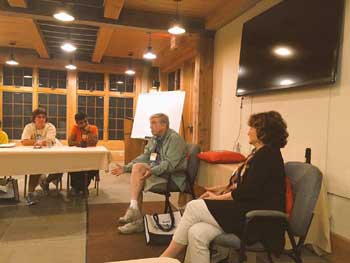 On Sunday, September 25, 2016, the Highlights Foundation announced the creation of the 2017 Jerry Spinelli Scholarship and 2017 Eileen Spinelli Scholarship for writers. In addition to years of support, the Spinellis hosted an artist-in-residency program at the Highlights Foundation last week.
The artist-in-residency program was established to celebrate the commitment select authors and illustrators have made to the field of children's literature and to raise awareness about projects from our residents that we feel will have a lasting impact on readers of all ages.
Prior to the announcement of the scholarships, Alison Green Myers and Jan Cheripko toasted the artists.
Mrs. Myers read from several of Eileen's classic tales during the reception. She began her speech where Eileen began her writing career: "Eileen Spinelli started writing at age six when her father gave her an old black manual typewriter. He built her a desk from a wooden orange crate. Her mother filled a box with paper. And the rest, well, is with us tonight. I love the image of little Eileen hunched over her typewriter, sprinkling word after word onto the milky page. I know that six-year old is very much a part of Eileen today."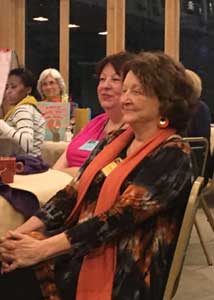 Mrs. Myers concluded her speech with: "In a world that, especially of late, feels full of fright and fear, full of tragedy and unkind, Eileen's words, whether in her books or in her encouragements to other artists, always speak to the best of humanity.
She crafts words of love and peace and kindness, the words that right now we need most of all.
We are grateful for her stories, for the hope that they instill in all of us.
Our hearts are full tonight as well as we honor Eileen for her commitment to poetry and prose; for her respect for all children, all readers, all artists; for her generosity to this profession. We are honored to host Eileen as an artist-in-residency and know that the stories she's worked on this week will go on to speak her messages of love and faith and hope. As a small token of appreciation for her work, we would like to present Eileen with a scholarship in her name."
To honor Mr. Spinelli, Jan Cheripko read the opening of Maniac Magee. He said of the work, "A brilliant blending of visceral images with profound philosophical statements – 'stomach like a cereal box, heart like a sofa spring' and then, 'What's true, what's myth? It's hard to know.'
And that series of three with the enigmatic ending: 'One part fact, two parts legend, and three parts snowball.' Snowball? I love that. Who would ever think of snowball? But, my God, is that not stunning? Snowball?
And then 'Run your hand under your movie seat' – how many of us have ever done that when we were young? Followed by 'But be very, very careful not to let the facts get mixed up with the truth.'
And that's just the beginning!"
Mr. Cheripko also shared one of Jerry's writing secrets with those in attendance: "Jerry was a baseball player when he was young. He dreamed about playing in the big leagues. But a poem he wrote about a high school football game, which his father published in the local newspaper, changed his life forever. Jerry wasn't meant to be a professional baseball player. He was destined to write.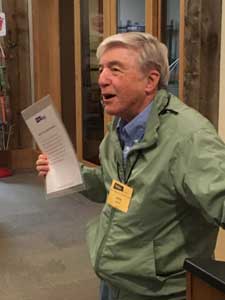 He gave up the smell of fresh leather filling the air from a brand-new Rawlings baseball glove featuring a Phil Rizzuto signature; the solid sound of the crack of a baseball careening off a Louisville Slugger; the wide-eyed vision of following a ball you just smacked as it goes sailing over the left-field fence; the sting of raw flesh being peeled away from your backside when you slide, cleats high, into second; and the taste of a milkshake after a hard-fought game—well, maybe he didn't give up the milkshake; we'd have to ask Eileen about that.
But all of those wonderful experiences gave way to the disciplined, non-stop tip-tap, tapping on a Royal typewriter. But actually, they didn't give way. Actually, they came to life. Those experiences and so many more.
He once said in a talk here at the Highlights Foundation about his ideas and where they come from: 'I use a little-known secret device: my memory. I remember what it was like when I was a kid.'"
The residency reception closed with the formal announcement of the 2017 Jerry and Eileen Spinelli scholarships.