We are thrilled to announce poet Eileen Spinelli, author Jerry Spinelli, author Meg Medina, and illustrator Suzanne Bloom as our 2016 Artists-in-Residency. The Highlights Foundation's residency program celebrates the commitment these authors and illustrators have made to the field of children's literature.
We sat down with the artists to chat about what projects they have planned for their residencies and what folks might expect if they decide to plan a trip to the Highlights Foundation Retreat Center at the same time.
Alison: This is the most crowded our interview suite has ever been. Welcome to all! Let's start by sharing the projects you plan to bring with you to your residency. Meg, care to go first?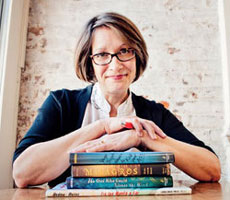 Meg Medina: Don't mind if I do. I'll be holed up in the lodge working on my next middle-grade novel for Candlewick Press.
Alison: Can you tell us about the premise of this novel?
Meg Medina: Of course! This one is set in South Florida and is the story of Dani Suarez. She is 12 and lives with her parents and her exasperating extended family: aunts, uncles, and cousins, all of whom live on the same block in side-by-side houses.
Dani, an athlete who would rather follow in her grandfather's baseball footsteps than make friends with the other girls, finds herself at a crossroads. As she gets her first taste of middle school and what it really means for everyone in her life to grow and change, it may be her crazy clan that will help her survive after all.
Alison: Thank you, Meg. Who is next? Jerry, can you tell us a bit about the project that you will bring to your September residency?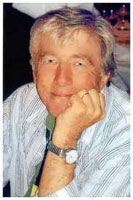 Jerry Spinelli: I'm just coming off my customary between-books holiday, so this is a great time to explore new ideas at the residency. I'm thinking:
Science Fiction.
Aliens.
But really? Asteroid.
Dinosaurs – poof!
Evolved, us returned.
Alison: That sounds … interesting. Any further details you care to share?
Jerry Spinelli: Part of the writing process is discovering how your own mind operates. In the earliest stages – call it proto-notion – of a story idea, I try to hold off identifying the specifics as long as possible. The moment an idea is uttered (paper, e-wise, mouth) other potential contributor ideas are cancelled or diminished. (For you scientists, think Heisenberg's Uncertainty Principle). So I try to keep the thing in a fluid, amorphous state before finally committing to plot and character. So forgive me for revealing – to myself as well as you – only this for the next one.
Alison: Looks like we will hear more details about this science fiction project after Jerry's week at the Foundation.
Eileen, what project will you bring to the Foundation?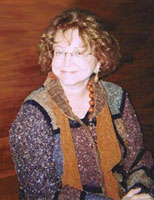 Eileen Spinelli: For the longest time, I have wanted to work on a collection of poems. I still haven't set my heart on a particular topic. It will be lovely to have this block of dedicated writing time to explore such a project. Besides choosing a topic, my goal will be to create an arc and to write at least a half dozen poems while I'm at the Barn.
Alison: Eileen, that "block of dedicated writing time" is exactly what we artists need, isn't it? Time to create. We look forward to learning of your topic and maybe hearing a poem or two while at the Barn this fall.
Suzanne, thank you for your patience. We are eager to hear more about your proposed project for your residency. What can you tell us?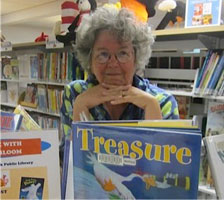 Suzanne Bloom: Well, it turns out that I have several characters vying for my attention. They can be so impatient, waiting for their stories to be told. How can I choose? Do I go with the easiest or most complex? Am I ready to draw a bunch of biddies or try something new? I guess these are good problems to have, especially with the residency time to dedicate to a project.
Alison: Sounds like you do not need to worry about writer's block. Not one bit!
You mentioned to me, Suzanne, that during your "office hours" at the residency you would like to talk with retreaters about writing and/or illustration. Will you be strictly writing at your residency? Or, like the retreaters who join you, will you also bring along some illustrations?
Suzanne Bloom: Writing and illustration is a package deal! I plan on setting up an art studio in the Barn during my residency. I'll work on writing and illustration throughout the week. Here are a few sketches that might turn into the characters I mentioned above.


Alison: Thank you all for joining us today! We will see you and your new projects this fall at the Barn.
–Interview by Alison Green Myers