I've come to expect certain things at The Barn. You know the things: good food, good books, good faculty, good friends. At every workshop more good comes.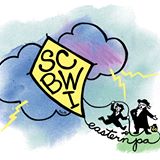 Then there are the magical days. Days when everything changes from good to great. We had a magical day at The Barn just yesterday. On the final day of the SCBWI Pocono Mountain retreat we learned about the collaborative process of a picture book with author/illustrator team Ame Dyckman and Zachariah OHora, and agent Sean McCarthy. We listened to the logic of story with editor Leila Sales. We played with agent Erzsi Deak and discovered ways to push our characters along using dialog. We laughed with art director Lauren Rille as we built unique characters.
The day was filled with great. And then, magic came in the form of Meg Medina's closing keynote.
Meg congratulated all of us for investing in our dream of writing for children and recognized the grit it takes to commit to a life in the arts. From behind her podium she acknowledged the struggle that every person in the room fights daily. That nagging voice that says a career in the arts is an indulgence. A life that is only meant for a select few. She saluted those struggles; let us embrace them for a moment, and then swiftly knocked them in the teeth.
Meg said that her journey to the arts was paved with doubt and guilt, but ultimately she knew she had to live her passion. "… What I was really saying was that I was ready to get better. To take a risk on myself. To finally come to a place of acceptance and have my own identity. I have a feeling you know what that is like," she said. "Grief brought me to the page, but believing in the power of story, in the healing power of story is why I keep writing. Story can help us heal and connect us, both as readers and writers."
The room leaned into Meg's words. Finally someone was speaking the hushed truth about this life. She went on to say that choosing a job in the arts, especially in writing for children, comes with great responsibility. She said, "You are moving through the world as a person who is writing a long love letter to children, and to the child you once were. This is important work."
Meg compelled us to take action. "Stand up for children through your art," she said. Her work takes a stand, often writing not about growing up, but "growing out" of troubling places. "Children's hearts don't run out of room for good books," she said.
Along with a commitment to our readers, she wants our actions to reach other citizens of the children's book world. Meg said, "I know many of you have an ache to publish. It is a demon of a thing. Your actions must rise above the need to have your name on the cover of a book this year. Love your fellow kidlit authors; support them whenever you can. Buy their books in Indie shops and check their books out of libraries. Turn around and help the writers that are behind you. Children's hearts do not run out of space for new authors."
We heard more and more about the generosity it takes to be a children's book writer. We see such generosity in Meg's work, and her words, always.
In the end, Meg stepped from behind the podium pausing before gifting us with one last sprinkle of magic. "Serving children is never a wasted effort," she said. "What I'm doing, what you're doing, is all about love and kindness. It is about the breath of air that art is. Remember this, what I'm doing and what you're doing matters."
Love and kindness. And a bit of magic.