Earlier this month I had the good fortune to visit Vera B. William's exhibit at the Delaware Valley Arts Alliance in Narrowsburg, New York. Junko Yokota and Laura Beltchenko, fellow Vera groupies, joined me on the opening day of the show. We ascended the stairs to the gallery and were greeted by Vera's words and pictures. The collection took us past touch points in Vera's career: from explorer and student to peaceful protester, from women's rights activist to jail cell, from A Chair for My Mother to Amber and Essie and Scooter and Bidemmi and babies, all those babies wanting more.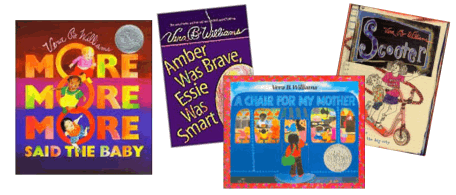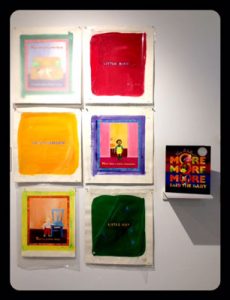 I studied each piece and thought first of falling into Vera's books as a teacher. The way her pictures pulled my children clear from their seats with vibrant colors brushed delicately across each page, always respectful and nurturing to their young eyes. The words came next, at first playful with Daddy or Mommy, then touching. Deeply touching about love and family and taking care of one and other.
As I wandered past more of her prints, my mind wandered to the first time Vera spoke at the Advanced Illustrator workshop at The Highlights Foundation. When we spoke on the phone days before the workshop, Vera checked on all of the things she would need: "a table for my display, a comfy chair (although I never could get her to sit down), and some water."
When I got the news this past weekend I went back to look at a video I took of her on that visit. She read from Amber and Essie and we felt like the luckiest bunch of freeloaders on the planet. You could hear the laughter and crying, the gasps when Vera connected one piece of her story to another—the way only Vera could, and when she paused, we paused, leaning forward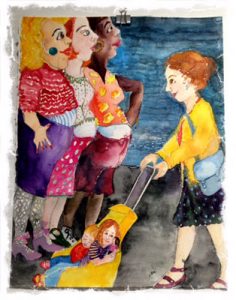 so she could explain each brushstroke, each idea, giving our lucky group a little treasure map to all of her stories. In the video the audience applauds, heck, we jump to our feet and cheer. And I thought, I will never in my life feel this way again.
Until she came back. Again and again, Vera came back. "Oh, Honey," she would say. "You'll need to stop me after an hour. I need to get home by 9 pm." And 9 pm would turn into, "Oh, Honey, I'll tell just one more story." Then she'd smile and pat my hand, "One more story, Honey," she'd say.
And the books. She'd sign her books and take pictures with each and every guest. She'd say, "Oh thank you, Honey" and "Just one more story" and I knew that Vera's visit would go on until she waved me over, late in the night, to say, "I'm ready." I loved Vera's just one last story and her willingness to give and give and give, and of course for the extra pats on the top of my hand, a reminder.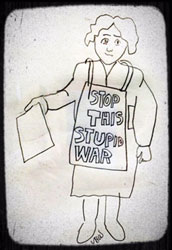 I'm sure many people have such stories about Vera. She was so generous and believed so righteously in giving back to her community— rather her communities: children's book authors and illustrators, artists, activists, educators, and families. Once when speaking to her on the phone she declined an invitation to accompany Kent and I to the Eric Carle Honors in New York. She said, "Oh, Honey, I do want to go, but I have a protest the next morning and at this age I need to pick my battles." She was 87 at the time.
I've seen posts about Vera's passing; people have taken to words like: force and feisty, fearless and feminist, teacher and friend. There's not one set of words to describe this fascinating woman. Vera's legacy touches us all and for that, and More, More, More, she will forever be missed.