A Writing Exercise to Ignite Your Inner Muse
At our Poetry Intensive for Published Writers: Find Your Muse in the Woods, leader Gail Carson Levine will lead you in a series of guided workshops to help you find ways to grow your craft, sharpen your voice, and expand your poetic and creative boundaries.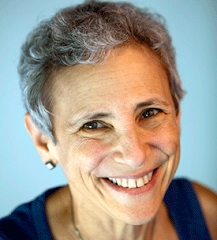 Here's what two participants had to say about Gail:
"Gail is an accomplished poet and writer, but she also has the gift to teach, encourage, and inspire. She made many forms of poetry accessible to us through example, through readings and discussions of form, and through our attempts. She responded to our work constructively, brilliantly, which gave me the courage to write and to share with the group. 5 STARS!"
"I learned so much about poetic meter and how it can be used in my prose writing, as well as in writing poetry."
We asked Gail to share one of her writing exercises with us. She said:
Last year I asked people to write poems using anaphora, which is the term for recurring beginnings of lines. As an example, here is a sample from "From a Litany" by Mark Strand:
FROM A LITANY BY: MARK STRAND
There in an open field I lie down in a hole I once dug and I praise the sky.
I praise the clouds that are like lungs of light.
I praise the owl that wants to inhabit me and the hawk that does not.
I praise the mouse's fury, the wolf's consideration.
I praise the dog that lives in the household of people and shall never be one of them.
I praise the whale that lives under the cold blankets of salt.
I praise the formations of squid, the domes of meandra.
I praise the secrecy of doors, the openness of windows.
I praise the depth of closets,
I praise the wind, the rising generations of air…
Strand's recurring beginning, obviously, is "I praise."
Try using anaphora in a poem of your own to warm up your poetry muscles. Most poems that use anaphora don't use it to begin every line. The poet sets up the repetition to get a rhythm and a pattern going, and then, whenever the phrase or word reappears, there's a lovely echo.
We won't be repeating many of last year's exercises at this year's Poetry Intensive, instead I have lots more lined up for you, and more marvelous poems for you to enjoy.–Gail
Posted on: January 16, 2020
Tags: levine, poetry, writing prompt