Harvesting Language from the Worlds We Know
We'd like to thank poet Georgia Heard for this blog post. Georgia, Rebecca Kai Dotlich and editor Rebecca Davis are the leaders of our annual workshop The Craft & Heart of Writing Poetry for Children.
---
Recently, I read a quote on a food blog that I loved, "The farm-to-table, or locovore, movement means the world around you dictates your menu." When I read those words, I thought that's exactly true for writing as well — particularly poetry.
On a spring morning, a chef spots edible wildflowers alongside the road and changes the menu to include a salad with chickweed and wood sorrel. In the fall, curried parsnip soup is featured on the lunch menu. As the wonderful and talented Highlights' chefs know well, the trend in the food world has been "farm-to-table" or "locavore" which refers to eating food made from locally-sourced ingredients.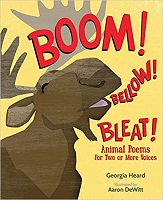 We had ninety acres of woods behind our house in Virginia where I grew up. Each day I listened to an orchestra of bird calls and buzzing insects. I stored these melodies in my heart for decades until they became the inspiration for Boom! Bellow! Bleat!: Animal Poems for Two Or More Voices. If those animal sounds hadn't been part of my life I never would have even thought to write this book.
Advice I give to my poetry students is to be a "locavore." If you're an expert on wood working or birding or gardening let that passion and language seep into your poems. The world around us dictates not just what we write about but also the language we use, and the images we visualize and store.
Notice what's in your world. Collect locavore words and images in a notebook like a chef might collect edible wildflowers and parsnips. Poems work best if we harvest language from the worlds we know.
---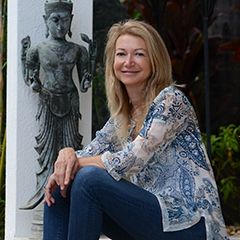 Georgia Heard received her M.F.A. in poetry writing from Columbia University. She is a founding member of the Teachers College Reading and Writing Project in New York City. Currently, she visits schools in the United States and around the world teaching writing and poetry, and is the author of several books on teaching poetry.
Posted on: August 11, 2019
Tags: faculty guest post, heard, poetry, writing tips