Storyteller: Sharon Langley
Sharon Langley is co-author of A RIDE TO REMEMBER, her debut picture book with Amy Nathan, and illustrator Floyd Cooper. Her love of reading and writing began with childhood storytime visits to her local library (Enoch Pratt Library in Baltimore, MD.) She became a borrower at a young age, diligently practicing her name, so she could sign her own library card. She is a graduate of Clark Atlanta University and holds a master's degree from Mt. Saint Mary's University. As an educator, she has worked in schools and shared children's books over the years. As a newly minted writer, she looks forward to sharing her books and stories with children for years to come. Sharon lives and writes in Southern California.
Follow Sharon Langley:
Sharon On Writing for Children:
"In my journey as an author, I would like to develop and write the kinds of stories in which children see themselves and that become their favorites. I have a wide range of interests and a variety of stories to tell. I would like to create books for children that include board books, early readers, picture books, and chapter books, including fiction and non-fiction (especially biographies and science.)"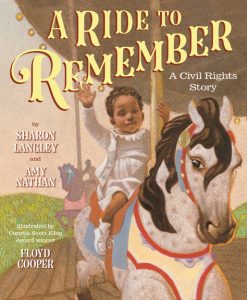 Would you like to see and purchase titles from our Storyteller cohort and members of The Brown Bookshelf?
THE LITERARY CAFE–BOOKS & EVENTS Bookstore Amplify Black Stories Book List, Curated by The African American Children's Book Project showcases a wide range of topics and talent from the Black Literary Community, including our cohort of Storytellers and members of the Brown Bookshelf. The list includes both non-fiction and fiction titles that will empower, enlighten and enrich all readers. Visit the bookstore.
See all Storytellers in the 2021 Amplify Black Stories cohort.