Latinx Voices: An In-Community Retreat
October 31 - November 3, 2022
OVERVIEW:
In-person 4-Day/3-Night, In-Community Retreat
This in-community retreat is for writers and illustrators from the Latinx Diaspora, with special hosts Alex Villasante, Mia García, NoNieqa Ramos and guests.  It is an informally structured retreat where the focus is on your own projects, plus a celebration of our community, sharing ways to amplify and support Latinx voices. Optional consultations are available upon request at an additional cost; optional peer group workshopping is encouraged, but not required.
An in-person retreat for Latinx Creators
Optional peer-to-peer workshopping will be facilitated for those looking for informal feedback from fellow creatives.
During the retreat, you will guide your time to work on your own stories and connect with fellow creatives.
Optional 1:1 consultations can be purchased for a private meeting to ask questions, share ideas, and plan next steps in your work in progress at $100 per consultation.
Lodging and meals are included.
Begins at 5:30pm Eastern on Monday, October 31, 2022
Ends at 1:00pm Eastern on Thursday, November 3, 2022
16 participants max
WHY THIS RETREAT?
This in-community retreat is reserved for Latinx Creators, with time to engage in important conversations and retreat… together!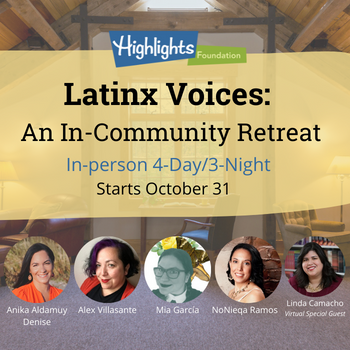 All creatives need time and space to accomplish their goals. Days will be spent on individual projects; whether that means deep conversation with a fellow creative, searching for magic in the woods, or culling your ideas into a new story.
You will have the chance to gather in facilitated peer-to-peer workshop sessions. Each evening a scheduled activity will follow dinner– finding the magic, a virtual guest editor visit, and open mic reading!
In addition to your personal time, there are a limited number of private consultations available that you may add onto your retreat experience at an additional cost of $100. Each consultation will include a 20 minute private session with one of our faculty members to share and discuss your work. (Written feedback will not be provided.)
Your retreat will be well appointed with space to create, as every accommodation option includes a personal workspace. You'll find various spaces around the grounds to get work done or take a nature walk if you need a change of pace or some inspiration.
THIS RETREAT IS A GREAT FIT IF:
You are a Latinx creative at any experience level or stage in the creative process. All creatives are welcome.
You'd like a retreat where you can get to work. You structure your time at this retreat. You'll have time to focus on your stories in the community of fellow Latinx creatives.
You are looking for informal guidance from one of our faculty members. You have the opportunity to purchase a consultation (for $100) during the retreat where you can discuss ideas and seek guidance on the next steps in your process. (No written feedback will be provided.)
DETAILED AGENDA:
Pre-Workshop
One week prior to the program, you will receive a link to our virtual classroom where you can introduce yourself to fellow creatives and engage in Highlights Foundation related resources (including our Community Standards).
For those who choose to take part in the optional consultations, you will receive detailed instructions on what to bring with you, and your designated time to meet at the retreat center. You will receive this information within one week of your arrival, and then again once you arrive at the retreat center.
Retreat Details:
All times are Eastern Standard Time.
Monday, October 31, 2022
3pm – 5pm Eastern:      Arrival and check in
5:30pm – 7pm:               Appetizers & Dinner
Following dinner:         Welcome, Introductions, & Finding Magic!
Tuesday, November 1
Morning:
Breakfast
Writing/Illustration time and Optional 1:1 meetings
Afternoon
Lunch
Writing/Illustration time
Optional peer-to-peer workshopping
Evening
Appetizers & Dinner
Special Virtual Visit with Publishing Guest
Wednesday, November 2
Morning:
Breakfast
Writing/Illustration time and Optional 1:1 meetings
Afternoon
Lunch
Writing/Illustration time
Evening
Appetizers & Dinner
Open Mic: Sharing and Celebrations!
Thursday, November 3
Morning
Breakfast
Writing/Illustration time
Afternoon
A note about workshop agendas and how they change and evolve.
Following the course you'll be invited to take part in our Community Office Hours on Thursdays at 7pm Eastern, beginning Thursday, November 10 through Thursday, December 15.
ABOUT OUR RETREAT CENTER:
All in-person Highlights Foundation workshops and retreats (including this one) are held at our Retreat Center: The Barn at Boyds Mills.  This site was the home of the original founders of Highlights for Children Garry and Caroline Myers, and is located in the Poconos Mountains of Pennsylvania on the traditional and contemporary lands of the Lenape Nation.
Your retreat fee includes lodging, farm-fresh meals with snacks, and car service from our local airport or bus/train stations if you need it.  For more information about attending a workshop or retreat here, visit the Barn at Boyds Mills website.
The Highlights Foundation strives for a safe and inclusive environment. You will have access to our Community Standards prior to the workshop where we ask for your respectful engagement with fellow creatives, including our faculty and staff.
RELATED RESOURCES:
Las Musas are Latinx authors and illustrators whose racial, ethnic, and cultural identities are as diverse as their writing. Meet them at http://lasmusasbooks.com.
#HFGather: In Conversation to Celebrate and Amplify Latinx Voices in the KidLit Community
Latinx in Kid Lit explores the world of Latinx YA, MG and children's literature.
Latinx Kidlit Book Festival, a virtual celebration of Latinx KidLit authors, illustrators, and books.
Hispanic or Latinx? How Evolving Language Impacts Kids
TheLatinoAuthor.com provides a platform for Latino writers / Hispanic writers, Latino authors / Hispanic authors, and All readers to come together around the world.
The Latina Book Club website features interviews, book reviews, excerpts, book of the month, books of the year, and more.
Latinx in Publishing is a network of book professionals committed to supporting and increasing the number of Latino/a/x in the publishing industry, as well as promoting literature by, for, and about Latino/a/x people.
La Bloga, The world's longest-established Chicana Chicano, Latina Latino literary blog.
FROM OUR COMMUNITY:
"All of the faculty was knowledgeable, informative, and helpful in the development of my as a writer and creative in the Latinx community."
"The faculty all were so AMAZING! I am crushing and loving their brilliance and generosity. I especially love the humor and honesty that they used to shared the content with us."
"I love meeting the faculty! I appreciated all the guests that they curated throughout the symposium. This really helped to demystify the writing/publishing process."
Faculty