Creating Picture Books with Humor and Heart: A Working Retreat
April 7 - 10, 2022
OVERVIEW:
In-person 4-Day/3-Night Workshop and Retreat
This is an in-person workshop at our Retreat Center with lectures, writing exercises, faculty consultations, and small-group manuscript workshopping.
Ample time for independent writing, meeting informally with fellow conferees, and re-charging your muse.
Lodging and meals are included.
Begins at with dinner 5:30pm Eastern on Thursday, April 7
Ends with lunch at 1:00pm Eastern on Sunday, April 10
16 participants max
Join two award-winning, bestselling authors, Emily Jenkins and Elise Broach, and writer and editor Sunita Apte (Reycraft Books/Benchmark) for this writing-intensive weekend focused on creating funny and emotionally satisfying picture books that connect with young readers.
FEEDBACK YOU'LL RECEIVE:
Before the workshop, you'll be asked to submit two complete picture book manuscripts, up to 1,000 words each.  These will be due by March 16, 2022. 
You will designate one for a faculty critique and one for workshopping by the entire group.  You'll also be asked to bring an idea or two for picture books that you haven't written yet or that you've been stuck on, for feedback at the pitch session.
WHY THIS WORKSHOP?
Hone in on the process of creating funny and emotionally satisfying picture books. Get feedback on two manuscripts: a one-to-one with a faculty member for the first, and a group critique for the second.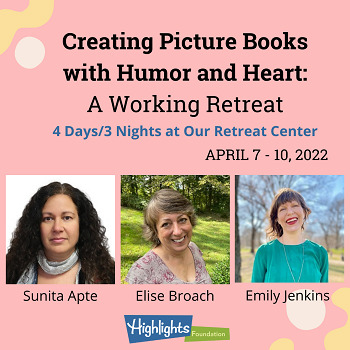 Hear presentations and do hands-on activities to prepare for submission. Learn craft tips: establishing your voice, accessing your inner comedian, creating relatable characters, connecting your readers with powerful emotions, and more.
At this writing retreat, you will learn:
Techniques for powerful beginnings and endings.
Ways to create a compelling story arc.
How to establish a distinctive style/voice.
Tools for creating unique but relatable characters.
How to identify your hook.
Tips for accessing your inner comedian.
Ways to use rhythm and repetition.
How to focus on the emotional lives of children.
Revision techniques to strengthen humor and emotion.
Mornings will be structured around lectures, workshops, and group hands-on activities. Afternoons will be reserved for independent writing and revising.  You will have ample free writing time built into this course so that you can stretch and work on your own projects. It is meant to be the perfect pairing of "retreat" and instruction.
THIS WORKSHOP IS A GREAT FIT IF:
You have multiple finished picture book drafts. Craft lectures and free time for writing means you'll need to have some drafts to work on and revise.
Your inner comedian wants to break free. Kids love humor, and this workshop will show you how to use it to create emotionally satisfying stories for kids.
You love picture books and want yours to stand out. We'll be taking a look at great picture books and analyzing what makes them work. You'll hear from faculty about developing your voice, your style, relatable characters and more.
You're ready to share you work and get feedback for revision. Attendees are asked to bring two complete picture book manuscripts of 1000 words or fewer, one for individual critique with a faculty mentor and one for workshopping with fellow students.
DETAILED AGENDA:
Pre-Workshop
You will receive a link to our virtual classroom where you can introduce yourself to fellow writers, engage in Highlights Foundation related resources (including our Community Standards), and view submission details related to this course.
Submission deadline: March 16. You'll be asked to submit two complete picture book manuscripts, up to 1,000 words each.  One of those manuscripts will be the basis for your 1:1 consultation with faculty; the other will be the basis of your group workshopping session.
You'll also be expected to read and become familiar with one manuscript from each member of the group in advance of the workshop.
Retreat Details:
All times Eastern Standard Time.
Thursday, April 7
3pm – 5pm Eastern:      Arrival and check in.
5:30pm:                            Appetizers & Dinner
Following dinner:           Opening session with Elise, Emily and Sunita with introductions, a preview of workshop topics, workshop goals, scheduling of manuscript reviews (individual and group), and a picture book read-aloud for inspiration (we'll provide the books).
Friday, April 8
Morning:
Breakfast
Beginnings, Endings, and Everything in Between with Elise Broach
What Makes Editors Want to Buy A Manuscript with Sunita Apte
Writing prompt and short-take meetings with editor
Afternoon:
Lunch
One-to-one critiques and free writing time (optional writing prompt)
How to be Funny with Emily Jenkins
Evening:
Appetizers & Dinner
After Dinner: Manuscript workshopping as a whole group (first four manuscripts)
Saturday, April 9
Morning
Rhythm, Repetition, and the Emotional Life of the Child with Emily Jenkins
Manuscript workshopping as a whole group (next four manuscripts)
Picture Book Read-Aloud and Analysis
Afternoon
Lunch
Manuscript workshopping as a whole group (next four manuscripts)
Free writing time
"What's the hook?" (Pitch session to panel of Emily, Elise, and Sunita)
Evening
Appetizers & dinner
Free writing time (optional writing prompt)
Sunday, April 10
Morning
Breakfast
Revising for Humor and Heart with Elise Broach
Manuscript workshopping as a whole group (final four manuscripts)
Q&A: Ask Us Anything: Writing, Editing, and Publishing Q&A with Elise, Emily, and Sunita
Afternoon
Lunch and farewells
A note about workshop agendas and how they change and evolve. 
ABOUT OUR RETREAT CENTER:
All in-person Highlights Foundation workshops (including this one) are held at our Retreat Center: The Barn at Boyds Mills.  This site was the home of the original founders of Highlights for Children Garry and Caroline Myers, and is located in the Poconos Mountains of Pennsylvania on the traditional and contemporary lands of the Lenape Nation.
Your workshop tuition includes lodging, farm-fresh meals with snacks, and shuttle service from our local airport or bus/train stations if you need it.  For more information about attending a workshop or retreat here, visit the Barn at Boyds Mills website.
HOW THIS WORKSHOP IMPACTS KIDS:
Funny and emotionally memorable picture books can be an incredible vehicle to connect with a young reader and inspire them.  This workshop helps you explore ways to create these types of books, and make a difference.
Why do we mention this? Learn about the Highlights Foundation mission.
COMMITMENT REQUIRED FOR THE BEST EXPERIENCE:
As an in-person event at our Retreat Center, you'll have a chance to step away from everyday life to experience the workshop. We try to build in breaks and independent time so you have space for your personal needs. While we encourage participation in all group events, we know that as an adult learner you can decide if you need more time to yourself. Please let someone from our staff or faculty know if you plan to step away from group activities.
The Highlights Foundation strives for a safe and inclusive environment. You will have access to our Community Standards prior to the workshop where we ask for your respectful engagement with fellow creatives, including our faculty and staff.
Another commitment that will help you get the most from this workshop is participating in the 1:1 consultation and daily small group discussions. The submission deadline in advance of your consultation with faculty and small group sessions during the workshop is March 16 in order to allow faculty and members of your group ample time to familiarize themselves with your work in advance of your meetings.  If this is an issue, please let us know.
Read some ideas about planning for the right level of commitment.
RELATED RESOURCES
3 Tips for Writing Funny Picture Books
Picture Books: Funny, Touching, Complex, Poignant, Memorable
9 Picture Book Topics to Avoid
How Do You Know If You've Written a Picture Book?
Writing Picture Books That Soar
Short and Easy, Right? How Hard Can It Be to Write a Picture Book?
Pointers for Writing Powerful Picture Books
Nonfiction Picture Books: Get it Right with Research
FROM OUR COMMUNITY:
"Elise and Emily were smart, knowledgeable, and brilliant teachers. They brought their real-world experience to each class and workshop session. I was also impressed by the way they gave us shared mentor texts on the first night, which they then referred back to as examples in the classes and workshop sessions. We had a common reference point through this teaching style."
"My favorite part was the one-on-one critique. Elise's insight into my story is going to move it to the next level."
Faculty