Storyteller: Natasha Khan Kazi
Natasha Khan Kazi is a Los Angeles-based children's book author and illustrator. A digital content creator by training, she built Islamimommy, a platform for Islamic activities for kids and parents. She was born in Bangladesh and immigrated to the U.S. when she was 5 years old and has since lived in Texas, Pennsylvania, Virginia, and California. She has a Bachelor of Science in Business Administration from the University of Pittsburgh and over 14 years of experience in storytelling, social media, and online community building. Her creative work is rooted in empathy, diversity, and childhood joy. In her debut picture book, MOON'S RAMADAN (Versify, 2023), Moon marvels at new and old Ramadan traditions. Natasha has a second book to be released in 2024 with Versify/HarperCollins. Learn more at www.natashakhankazi.com.
Follow Natasha Khan Kazi:
How will Muslim children see themselves in your stories?
"Islam is inclusivity. When I was a child, my Sunday school teacher was Syrian, my Imam was Black, and my best Islamic school friends were Sudanese and Egyptian. That love for diversity is what I bring to my stories. Whether they center around a Muslim family or Islamic traditions, my stories are told so that all Muslim children feel pride and acceptance. Beyond Islamic identity, I want Muslim children to see themselves as leaders, dreamers, and makers."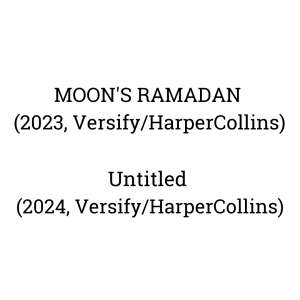 See all Storytellers in our Muslim Storytellers Fellowship Cohort.