Storyteller: Lisa Stringfellow
Lisa Stringfellow writes middle-grade fiction. Her debut fantasy A Comb of Wishes will be published on February 8, 2022, by HarperCollins/Quill Tree Books. She received the inaugural Kweli Color of Children's Literature Manuscript Award in 2019 for the novel manuscript. Lisa is a middle-school teacher and lives in Boston, Massachusetts with her children and two bossy cats.
Follow Lisa Stringfellow:
Lisa On Writing for Children:
"I want to write stories like those I would have loved to read as a Black child. Students need to see a variety of stories that reflect Black lives and experiences. Too often, in schools children read stories about Black oppression and trauma and not the joy and love in our lives. Libraries in the past, and often still now, have more books written about Black people than by Black people, and nuance and authenticity are often lost in those books."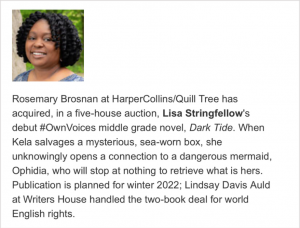 Would you like to see and purchase titles from our Storyteller cohort and members of The Brown Bookshelf?
THE LITERARY CAFE–BOOKS & EVENTS Bookstore Amplify Black Stories Book List, Curated by The African American Children's Book Project showcases a wide range of topics and talent from the Black Literary Community, including our cohort of Storytellers and members of the Brown Bookshelf. The list includes both non-fiction and fiction titles that will empower, enlighten and enrich all readers. Visit the bookstore.
See all Storytellers in the 2021 Amplify Black Stories cohort.