Announcing the Kidlit Pride Scholarship
at the Highlights Foundation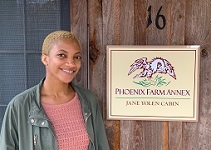 The Kidlit Pride Scholarship was established to help qualified authors and illustrators from the LGBTQIA+ community attend any of our workshops.
"I do hope that Highlights continues to create and host workshops/events for the LGBTQIA+ community. Though sometimes overlooked, our stories are necessary and offer hope to children who find themselves in the books we write. It's through your continued support that we can ensure that our voices are heard and our stories see the light of day."
–Gloria Day, 2019 Scholarship Recipient
Scholarships applications are accepted on a rolling basis throughout the year.